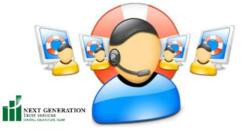 "Our number one goal is to provide the smoothest, most efficient client experience possible at all times," said founder and CEO Jaime Raskulinecz. "
Roseland, NJ (PRWEB) September 19, 2012
Next Generation Trust Services, LLC has made communication between clients and staff more convenient with a live chat feature the firm installed on its website last month. The service streamlines the customer experience by offering real-time correspondence with any available employee online rather than over the phone. Next Generation Trust, which specializes in account administration and transaction support for self-directed retirement plans, has been upgrading its office technology throughout 2012. These efforts include adding features to increase transaction security, a new server to speed up transaction processing, and improvements to its website, http://NextGenerationTrust.com.
"Our number one goal is to provide the smoothest, most efficient client experience possible at all times," said founder and CEO Jaime Raskulinecz. "One way we do this is to cross-train all our employees so they can respond quickly to clients' questions. Live chat enhances that experience by putting website visitors in touch with our staff online."
Next Generation's live chat allows clients to contact any available representative with questions about their self-directed retirement plans during regular business hours via an instant message. Site visitors may click on a box at the bottom of the screen that asks them if they would like to Live Chat with a Next Generation representative, or scroll down and click on the Live Chat Online button at any point during their visit. Current and prospective clients have been using the live chat feature to ask quick questions about fees, transactions, and opening a self-directed retirement account.
This past spring, Next Generation Trust started offering the convenience of electronic signatures through DocuSign. This electronic signature system allows clients to complete certain forms without having to print, scan, or fax documents that require signatures. The signatures processed through DocuSign are encrypted and DocuSign keeps an audit trail of all transactions processed through it. Next Generation Trust Services offers this service only on documents for which the company does not require original of paperwork. Clients simply create a free DocuSign account to use the service. For a list of documents that require written signatures and more information, go to http://nextgenerationtrust.com/blog/ngts-now-accepting-docusign-documentation/.
As an administrator of self-directed retirement plans, Next Generation Trust Services handles all the paperwork and holds the assets associated with these accounts, which allow for a diverse array of nontraditional investments. The firm offers free educational programs throughout the year to introduce investors to the many options and benefits of self-directed as a retirement wealth-building strategy. For more information about self-direction or to open a self-directed IRA go to http://NextGenerationTrust.com or call (973) 533-1880.
About Next Generation Trust
Next Generation Trust Services (NGTS), headquartered in Roseland, New Jersey, is a professional third-party administrator of self-directed retirement plans. NGTS provides education, administrative support, and account maintenance to individuals interested in self-directing their retirement portfolios with a wide variety of investments that are not typically found in an IRA, such as real estate, precious metals, notes and mortgages, private placements, accounts receivables, limited partnerships, hedge funds, and much more. Next Generation Trust Services serves clients globally via its website, http://www.NextGenerationTrust.com. For more information on self-directing a retirement plan, call 973-533-1880, 888-857-8058 (toll free), or e-mail Info(at)NextGenerationTrust(dot)com.