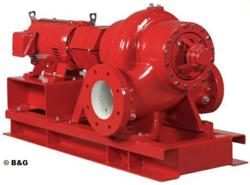 We have made the investment in stocking Bell & Gossett because it represents the gold standard in many of the markets we serve.
Wallington, NJ (PRWEB) September 18, 2012
Pump Express currently has an extensive inventory of Bell & Gossett configured pumps in stock. The powerful and often complex units, which are mainstays of commercial and industrial HVAC systems across the Northeastern U.S., normally require several weeks for delivery due to the large number of orders placed with the manufacturer. With its extensive inventory of pumps and parts, Pump Express is capable of building the units to order in under a week. Overnight delivery in many areas further reduces lead time.
"Configured pumps typically take four-to-six weeks to deliver to a customer, with larger Bell & Gossett heating pumps often requiring in excess of eight weeks," says Pump Express Sales Manager Fred Hettinger."That's a real stretch for most commercial building operators. When a main pump goes down, the building manager can only pray that the back-up pump most larger buildings have will take up the slack until the replacement pump arrives – not a great scenario given that most of these pumps are the same age and if one failed the other can't be too far behind."
With more than 500,000 square feet of warehouse space, a state of the art service facility, a team of Bell & Gossett application engineers and assembly technicians on staff, Pumps Express has invested in stocking B&G pumps and building a reputation for speed and efficiency in configuring them to order. The current inventory of Bell & Gossett pumps includes split and close coupled end suction pumps (1510 & 1531), (Series 80) vertical in-line pumps up to 3" suction, close coupled centrifugal base-mounted pumps (1535) up to 15 HP and (Series 60) custom circulator pumps in sizes up to 3 HP in both cast iron and bronze.
"A lot of distributors don't want to stock merchandise. They would rather order from the manufacturer as needed," explains Hettinger. "As a result, they end up in a pool of clients waiting weeks for their orders to get filled. We have made the investment in stocking Bell & Gossett because it represents the gold standard in many of the markets we serve. The stocking and service facilities we maintain make it possible to reduce lead time to a mere three-to-four days. We're glad to be able to offer our resources and help to get our client's systems fully functional as quickly as we can."
COMPANY INFORMATION
PumpExpress.com is a stocking distributor and service facility for the world's leading manufacturers of pumps and equipment used in the treatment and transportation of water, wastewater, and other fluids. We serve the commercial, industrial, construction, institutional and utility markets. Our application engineers work with our clients to select the equipment that's right for their specific needs.