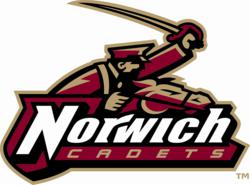 MIDDLETOWN, Conn. (PRWEB) September 17, 2012
Following the success of three-straight wins to open the season, the Norwich University football team has earned a No. 3 ranking in the first New England Division III Football poll of the 2012 season.
The Cadets, who received 143 votes and one first-place vote, rank behind fellow 3-0 record holders Bridgewater State and Salve Regina in the poll. Bridgewater State took the first place slot with 188 points and 12 first-place votes, while Salve Regina garnered 171 points and four first-place votes.
Amherst and Endicott rounded out the top five in this week's poll, followed by Trinity, Western New England, Springfield, Framingham State and Williams.
The Cadets have won 10 of their last 11 games dating back to last year and finished the 2011 campaign ranked 10th in the poll. The Cadets reach their highest slot for the first time since the 2010 season and represent the Eastern Collegiate Football Conference as the only school from the league to be named to the poll.
Norwich is idle next weekend but returns to action on Saturday, Sept. 29 when it travels to Mt. Ida College for a 1:00 p.m. ECFC matchup.
Norwich University is a diversified academic institution that educates traditional-age students and adults in a Corps of Cadets and as civilians. Norwich offers a broad selection of traditional and distance-learning programs culminating in Baccalaureate and Graduate Degrees. Founded in 1819 by Captain Alden Partridge of the U.S. Army, Norwich University is the oldest private military college in the United States of America and the birthplace of our nation's Reserve Officers' Training Corps (ROTC). http://www.norwich.edu