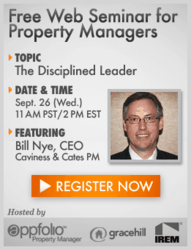 Santa Barbara, CA (PRWEB) September 19, 2012
AppFolio, providers of web-based property management software along with co-hosts IREM and Grace Hill invite property management professionals to a complementary webinar titled The Disciplined Leader, featuring industry expert Bill Nye. This webinar will showcase the qualities of successful leadership and how one can "lead to succeed" in the property management industry.
Register for this Complimentary Webinar: Wednesday, September 26th at 11am PDT / 2pm EDT.
+ The critical role values & virtue play in the sustained success of property mgmt. leaders.
+ The three levels of communication and how to drive decision-making.
+ How to effectively implement discipline as part of a leadership philosophy.
+ Real world examples of how to enhance leadership skills.
This webinar is designed for property management leaders and professionals; CEOs, VPs, Directors, Managers....anyone in a leadership position who is interested in learning more from one of the industry's most respected speakers.
This educational event is hosted by Grace Hill, the leading provider of education and networking opportunities for members of the multifamily industry, IREM, the source for real estate management professionals to build, connect, and grow, and AppFolio, providers of web-based property management software designed for modern residential property managers.
About AppFolio
Headquartered in Santa Barbara, AppFolio was started by a team of technology leaders with proven experience creating software that businesses love to use. AppFolio creates complete, easy-to-use, web-based solutions for multiple markets and the first AppFolio SaaS service (AppFolio Property Manager) was specifically created for residential property managers. AppFolio also provides RentApp the first free, online rental application solution and AppFolio SecureDocs, secure virtual data rooms that speed up financial transactions. With original investors including Cisco Systems, BV Capital and the Investment Group of Santa Barbara, AppFolio's rapid growth is being fueled by very happy and loyal customers. For more information, please visit AppFolio.com.