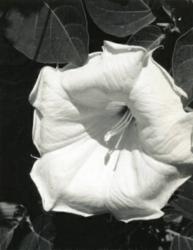 "We feel this is an extraordinary tribute to O'Keeffe." – Nina Callanan, director of museum advancement.
Santa Fe, New Mexico (PRWEB) September 18, 2012
To honor what would have been the 125th birthday of the famed modernist Georgia O'Keeffe, on November 15, 2012, the Georgia O'Keeffe Museum announces a photography competition, with a subject matter of flowers. The Museum is encouraging photographers—amateur and professional, located regionally, nationally, and internationally—to submit photographs to celebrate O'Keeffe's enduring artistic legacy. All winning images will be published in the spring issue of the O'Keeffe Magazine and on the Georgia O'Keeffe Museum website, and awards will be presented for first, second, and third place, two student winners, plus 20 honorable mentions.
Georgia O'Keeffe was born November 15, 1887 near Sun Prairie, Wisconsin and worked prolifically for more than six decades, producing 2029 paintings. She died in Santa Fe, New Mexico on March 6, 1986 at the age of 98. Of O'Keeffe's best-known subject matters—abstractions, landscapes, cityscapes and flowers—her flower paintings are her most recognized works. She took something from everyday life and elevated it to the visual language of modernism, while also providing an abiding appeal to those who simply appreciate the beauty and diversity of her flower paintings.
O'Keeffe's statements about flowers are also some of her most widely recognized and used quotations. "Nobody sees a flower - really - it is so small it takes time - we haven't time - and to see takes time, like to have a friend takes time," she said. And "When you take a flower in your hand and really look at it, it's your world for the moment. I want to give that world to someone else. Most people in the city rush around so, they have no time to look at a flower. I want them to see it whether they want to or not."
"Not only is the flower one of O'Keeffe's most well-known subject matters, but some of the earliest photographs ever taken were of plants and flowers," said Nina Callanan, director of museum advancement at the Georgia O'Keeffe Museum. "We feel this is a extraordinary tribute to O'Keeffe," she said.
The photography competition is divided into three groups: adults 21 years and older; students, 18 to 21 years of age; and students below 18 years of age. Judges for the adult group include: Jennifer Schlesinger-Hanson, director of VERVE Galley of photography based in Santa Fe, a leading purveyor of every genre of contemporary fine art photography; Joyce Tenneson, an award-winning, highly respected contemporary photographer whose work has been shown in over 150 exhibitions worldwide; and Norman Vanamee, editor-in-chief, Garden Design Magazine, a national garden design magazine.
The early entry deadline is Thursday, November 15, 2012 at 11:59 PM PST, what would have been O'Keeffe's 125th birthday. Entries may also be submitted until December 19, 2012 at 11:59 PM PST. Entry fees vary for students and adults, and increase slightly for the later submission date. For guidelines, complete entry instructions, and a list of prizes, visit the Museum's website.
This Georgia O'Keeffe Museum photography competition is part of a larger 125th birthday celebration, planned for November 14 –17, 2012. The celebration includes: a screening of the film Bone, Wind, and Fire, an intimate and evocative journey into the hearts, minds, and eyes of Georgia O'Keeffe, Emily Carr, and Frida Kahlo; a lecture and reception by renowned Georgia O'Keeffe biographer, Roxana Robinson; a concert with Grammy award-winning jazz musician Karrin Allyson; and much more. For complete birthday celebration details, visit http://www.okeeffemuseumevents.org.
ABOUT GEORGIA O'KEEFFE MUSEUM:
The Georgia O'Keeffe Museum is dedicated to the artistic legacy of Georgia O'Keeffe, to defining its ongoing significance, and to the study and interpretation of American Modernism, late 19th century to the present. The Museum's collections, historic properties, exhibitions, Research Center, publications, and education programs contribute to scholarly discourse and inspire diverse audiences. Located in Santa Fe, NM, the Museum's collections, exhibits, research center, publications and education programs contribute to scholarly discourse and serve diverse audiences. The largest single repository of the artist's work in the world, it is the only museum in the world dedicated to an internationally known American woman artist and is the most visited art museum in New Mexico.