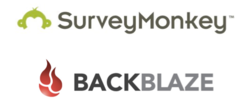 San Francisco, CA (PRWEB) September 18, 2012
Backblaze and SurveyMonkey, innovators in the data storage and professional online survey industries, announced today that they are early partners running ads on Facebook's® newest advertising platform, the Facebook Exchange. Facebook Exchange is a real-time bidding ad system that target ads to Facebook users. The two partners selected Triggit, one of the leading real-time demand side platforms, to power their ads on the new exchange.
After seeing the initial campaign results, Backblaze and SurveyMonkey said that they're excited about being one of the first in their respective verticals to advertise on a large, new direct response marketing channel with a data-driven platform like Triggit. "As a company that provides its customers with insightful data each and every day, we appreciate the rich potential and in-depth advertising information that Triggit's platform delivers," said Dave Goldberg, CEO, SurveyMonkey. "Our goal is to touch those customers who are in need of SurveyMonkey's online survey tools and solutions, and Triggit's sophisticated technology capabilities allow us to specifically target those individuals."
Backblaze notes that Facebook could be the next big opportunity to grow their business. "After 5 years of mostly word-of-mouth growth, Backblaze just raised $5 million to grow faster. We are excited to be working with Triggit and Facebook Exchange to help accelerate customer sign ups," said Gleb Budman, CEO and Co-Founder at Backblaze.com. "We believe Triggit's technology and Facebook's scale could provide significant potential for efficient customer acquisition."
Known for developing its sophisticated real-time bidder since 2005, Triggit was one of the first demand side platforms to develop a Facebook Exchange optimized algorithm and offer features like treatment and control tests for the social network. "When we started running retargeting ad campaigns on the new Facebook Exchange, we were expecting great results because of the scale and reach of the Facebook platform," said Zach Coelius, CEO of Triggit. "So when the results came back to show 18% – 30% conversion lift compared to a control group, it was better than anything we've seen in other direct response channels. Not only that, but we were seeing 4x higher return on ad spend and nearly 7x lower cost per action for Facebook Exchange ads."
In June, Facebook announced that they would enable real-time bidding on Facebook. Real-time bidding is a process that lets advertisers bid in real-time on a specific ad impression, which means that advertisers can deliver more relevant advertising in a timely manner at a scale not possible before. For example, a travel site may be interested in reaching a person who searched for a flight but did not complete the purchase. With Facebook Exchange, this travel website can show that person a related ad on Facebook by partnering with a company like Triggit, a DSP that has the technology to leverage the data and sync a relevant ad impression to the right user on Facebook.
To view the infographic of the results and learn more about the results, visit http://blog.triggit.com/facebook-exchange.
Facebook® is a registered trademark of Facebook, Inc.
About Triggit
With over seven years' of experience in providing real-time bidding solutions, Triggit is a trusted partner of the Facebook Exchange. Triggit is the first real-time demand side platform to offer bidding based on a Facebook-specific algorithm. This means their clients can take advantage of a number of features on the social network, such as:
Control tests and view-through attribution

About Backblaze
Founded by a team of serial entrepreneurs with security, scalability and usability backgrounds, located in the heart of Silicon Valley, Backblaze's mission is to ensure that all computer data is backed up. Backblaze was selected as a winner of the AlwaysOn Global Top 250 private companies for game-­‐changing technology and market value. Backblaze provides a free trial and automatically backs up all data on a PC or Mac for just $5/month, $50/year, or $95/ two years. Visit http://www.backblaze.com for more information or to backup your own computer. Backblaze is a registered trademark of Backblaze, Inc.
About SurveyMonkey
SurveyMonkey Inc. is the world's largest survey company, helping customers collect more than 1.5 million online survey responses every day. SurveyMonkey has revolutionized the way people give and take feedback, making it accessible, easy and affordable for everyone. The company was founded in 1999 with a focus on helping people make better decisions, and has built technology based on over 10 years of experience in survey methodology and web development. Customers include 99% of the Fortune 500, academic institutions, small businesses, HR departments and neighborhood soccer leagues everywhere. The company has more than 150 employees throughout the United States and Portugal, with headquarters in Palo Alto, CA.
Media Contact
Christina Park
Triggit
1535 Mission St.
San Francisco, CA 94103
E-mail: press(at)triggit.com
Phone: 415-839-9462
http://www.triggit.com