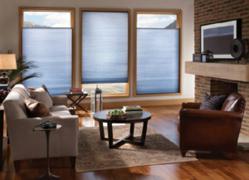 Castle Rock, Colorado (PRWEB) September 19, 2012
Denver decorators typically put off buying new window treatments until Shades, Shutters and Blinds holds its annual fall sale. The company sells custom window treatments for homes, schools, major universities, corporate headquarters, the U.S. White House, and the Disney Corporation. The company follows a simple philosophy, it offers astonishing choices of quality blinds, shutters, and shades at affordable prices, but customers get the benefit of custom treatments to fit their windows seamlessly, even when ordering online. Trained staff offers comprehensive advice for measuring windows to get perfect fits.
The annual fall sale offers an amazing 33 percent discount on all treatments, and customers get the finest service from trained staff members when they order by phone. During regular business hours, online customers get quick email responses within 30 minutes; the straightforward pricing and secure ordering make online ordering fast and easy.
Selections include everything homeowners need such as brackets, head rails, and screws. Shades, Shutters and Blinds carries all types of treatments in wood, faux wood, vertical styles, mini blinds, and shade materials in a full range of colors and options including remote controls and woven-wood blinds.
Customer testimonials glow with simple enthusiasm, but Vail P. sums up typical customer comments succinctly, "Awesome experience, quick shipment, and friendly staff."
Customers can contact the company at 405 South Wilcox Street, Suite 103, Castle Rock, Colorado, 80104.
Customers can call during business hours from 8 a.m. to 6 p.m. Monday through Friday at: Toll Free: 1-800-789-8583, Local: 303-663-9013, Fax: 303-663-9014.
The website address is http://www.shadesshuttersblinds.com/contactus.asp.
Commercial and residential customers enjoy the superior looks of custom window treatments at prices that rival cheaper materials from cookie-cutter sales outlets. Leverage the decorating benefits of custom treatments to serve as focal points for stunning home and commercial decor.