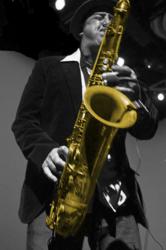 Mullen's sax is urgent, intense, and ultra-expressive....you can truly appreciate the depth of his experience as he wails through runs that demonstrate his feel and love of what he does. - Jazzreview
Montclair, NJ (PRWEB) September 19, 2012
Performing at Trumpets Jazz Club on Sept. 30th at 7PM will be Dave Mullen's Inception Ensemble, a dynamic group of New York's top musicians led by Saxophonist/Composer Dave Mullen, performing their own fire brand originals and timeless standards which are sure to blaze a trail in today's eclectic jazz scene.
They've also performed and recorded with a bevy of well known artists such as.......
Saxophonist Dave Mullen (Roy Ayers, Gloria Gaynor, Gil Scott Heron, Marc Ribot, Mark Egan, Nile Rodgers)
Drummer Victor Jones (Chaka Khan, Stan Getz, Dizzy Gillespie, James Moody)
Bassist Hans Glawischnig (Ray Barretto, Chick Corea, Paquito D'Riviera, David Sanchez)
Keyboardist Dario Boente (Antonio Sanchez, Ronny Jordan, Little Louie Vega),
Trumpeter Richard Boulger (Allman Brothers, Freddie Hubbard, Donald Byrd, Randy Brecker, John Hicks)
They draw from a vast collective of history and tradition establishing a unique template of modern Jazz, creating an inspiring opportunity to explore the future of the genre.