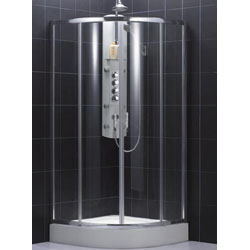 DreamLine provides clients with innovative shower doors
Aiken, SC (PRWEB) September 19, 2012
Selecting the right shower design can be confusing. There are so many things to consider: the architecture of the home, the style of the bathroom, the lifestyle, and budget. And like any other aspect of good design, remodeling a bathroom takes a concentrated effort to get it right. That's how Warehouse USA can help. By presenting a wide range of shower doors, faucets, vanities, and accessories this website can inspire customer's own design. More than that, helpful customer service can walk person through the decision-making process, step by step.
Warehouse USA offers a large assortment of shower doors from DreamLine.
DreamLine is a premier global manufacturer of shower related products. With operations in the United States, Europe, Asia, and an expanding Canadian distribution network. DreamLine provides clients with innovative shower doors, shower enclosures, shower columns, steam rooms, vanities, and specialty products under its DreamLine brand.
Choose from an amazing selection of space saving sliding, bypass, or bi-fold shower doors for an impressive look. Choose a standard or heavy glass design found in the ENIGMA and ENIGMA X collections. Find the right door for any project with frameless and semi-frameless doors in the UNIDOOR, ELEGANCE and ALLURE shower door collections - offering off-the-shelf doors for openings from 24 to 67 inches. AQUA shower doors offer a flowing European look and great function. Consider the 2011 new and unique sliding door design of the frameless MIRAGE shower door or the three panel sliding ILLUSION door. All doors are made of tempered glass complimented in some models by anodized aluminum profiles and guide rails in popular finishes like Chrome and Brushed Nickel. Add a DreamLine shower base from the AMAZON or TRIO collections with matching QWALL back walls to complete the bathroom remodeling project.
Warehouse- USA.com is the online source for fixtures, faucets, and accessories. For the past thirteen years, Warehouse USA has been offering their customers low prices on large selections of kitchen and bathroom faucets, tubs, shower doors, vanities, sinks, etc. For more information please visit: http://warehouse-usa.com