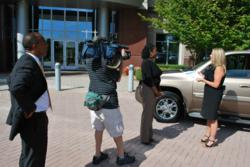 "We want the public to know that there are good guys in this business, although unfortunately not all are"
Charlotte, NC (PRWEB) September 19, 2012
Warranty Direct, an online provider of extended vehicle warranties, has given a Charlotte woman a free extended warranty after learning that another car warranty company refused to repair her SUV vehicle, say company officials.
According to a report on WSOC-TV in Charlotte, Yvonne Sanders of Charlotte purchased an extended auto warranty from My Car Solutions, after they sent her a postcard which appeared to be legitimate. She paid $1,900 for an extended warranty for her 2003 GMC SUV, believing it would be covered in case of repairs, the TV station reported on their website.
According to the TV news report, when the time came to have the alternator repaired, her mechanic told her that her policy would not pay. Apparently, the report continued, My Car Solutions never sent the money to the warranty fulfillment company, and so her policy was never activated. The Federal Trade Commission recently shut down My Car Solutions for misleading consumers, according to the WSOC-TV report.
Hoping for restitution, Sanders contacted Action 9, WSOC-TV in Charlotte. "I just wish y'all could find out what's going on because $1900 is a lot of money," she told the station. Investigative reporter Don Griffin contacted the FTC hoping to help Sanders, but said he found out My Car Solutions' assets were frozen and the company had been shut down.
After seeing Griffin's story online, Warranty Direct marketing director Jeff Greenwald and executive vice president Tara Williams decided to take action to help Sanders.
"We are one of the few extended warranty companies rated A+ by the Better Business Bureau," Williams said. "We want the public to know that there are good guys in this business, although unfortunately not all are, as Yvonne found out."
As the TV cameras rolled, Williams gave Sanders a Warranty Direct PowerShield service contract worth over $2,000 to cover engine, powertrain and other mechanical repairs to her SUV for two years, Williams said.
"I am so happy," Sanders beamed. "I am amazed that y'all are doing this and feel like I have won the lottery!"
"People buying extended warranties or service contracts for their vehicles need to do their homework," Williams said. "There are a lot of companies out there and not all are equal. This is why we encourage consumers to shop around and see what else is out there. After that most consumers make the buying decision to purchase direct from highly-rated warranty companies like Warranty Direct – our parent company is the administrator and they provide customer service and pay claims; over $1 billion since we started over 30 years ago. We don't just sell contracts and take people's money. We provide them with the right plan for their vehicle and budget as well as take care of their covered repairs when they are in need. It truly is peace of mind."
For more than 30 years, Warranty Direct has been part of one of the largest and most established vehicle service contract companies in North America. Today Warranty Direct operates primarily on the Internet, providing full transparency for the consumer so they can see all options, prices and contracts online prior to purchase. The company respects consumers by never engaging in unsolicited phone calls (telemarketing). Warranty Direct is one of the few auto warranty companies rated A+ by the Better Business Bureau.