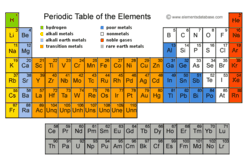 Chemistry teachers and students can use innovative and entertaining tools like the ElementsDatabase.com periodic table quiz to make the learning process an enjoyable journey, instead of a boring exercise
Toronto (PRWEB) September 18, 2012
Art Branch, Inc., the parent company of ElementsDatabase.com, today announces the publication of a new periodic table quiz (http://www.elementsdatabase.com/periodic-table-quiz.php), targeted at students and teachers at high school, college, and university level.
Created by the content development team at Art Branch Inc., the quiz is a new addition to ElementsDatabase.com, which offers educational content and detailed information about well-known chemicals from the periodic table. The new quiz was developed in response to requests by visitors who confirmed that such a tool would enhance user experience.
"Chemistry teachers and students can use innovative and entertaining tools like the ElementsDatabase.com periodic table quiz to make the learning process an enjoyable journey, instead of a boring exercise," said Peter Todorov, President of Art Branch, Inc.
The quiz includes over 300 chemistry questions, designed to improve visitors' subject knowledge. Chemistry is considered a difficult core curriculum subject that incorporates many abstract theories and concepts. Students often face information overload and difficulties with chemistry when learning about chemical reactions, atomic structure, hydrogen bonds, dilutions, line spectra, and other concepts. Stuffy lectures and boring handouts and textbooks contribute to this information overload and make it more difficult for students to understand concepts and ideas that are fundamental to learning chemistry. At the same time, chemistry can help students to understand the functions and organization of living and non-living matter. Students learn about the role of chemistry in managing water resources, reducing energy demand, the discovery of new drugs that cure diseases, and much more. Presenting chemistry concepts in such a way that makes them easy to understand contributes to meaningful learning, keeps students interested, and enhances their performance. Teachers can use a variety of interactive tools to facilitate learning and help students to make connections between different concepts and ideas. This is the goal of the new periodic table quiz – to offer a valuable tool that fosters engagement in learning and is fun to use.
About ElementsDatabase.com: ElementsDatabase.com is a free educational resource released by Art Branch, Inc., offering chemistry tutorials.
About Art Branch: Art Branch, Inc., located in Toronto, Ontario, is the parent company of ElementsDatabase.com and has produced many educational websites targeting worldwide audience. The goal of Art Branch is to provide visitors to company sites with free, practical guides, helping students and teachers and making the learning process easier.