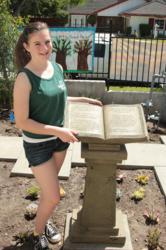 Cassandra: "My goal was to create a Mitzvah project that the kids at the temple would enjoy just like I did when I was at the preschool. I wanted to create something beautiful to keep my best friend's memory alive."
Northridge, CA (PRWEB) September 19, 2012
When 13-year-old Cassandra Cohen led the restoration of a children's garden for her Bat Mitzvah project, she designed an enchanting space where generations of young children will grow new friendships. She also created a lasting memorial to her own best friend, Alexa Weiner.
Cassandra and Alexa met at Temple Ahavat Shalom Preschool when they were just three years old. They quickly became pals.
Days at the Northridge, California preschool often found them playing together in the Temple garden, watering the plants, digging in the soil, and doing one of the most important jobs of any young child: getting dirty. The garden wasn't much to look at, but it was the birthplace of happy memories for Cassandra, Alexa, and scores of other children.
Those preschool days soon took a frightening turn. On the eve of Alexa's fifth birthday she collapsed and was taken to the hospital. A diagnosis of brain cancer and emergency surgery marked the beginning of a five-year battle.
During this challenging time, Alexa and Cassandra remained fast friends and their families became close as well. They were even Y- Princesses together with the North Valley YMCA in Porter Ranch, which gave the girls and their dads a chance to bond through wilderness trips, community service and family recreation.
Despite surgeries and hopeful progress, Alexa eventually succumbed. Her death at age ten left a huge hole in Cassandra's heart and in the entire community. When it came time to choose a Bat Mitzvah project, Cassandra's eyes turned toward the little garden where she had first played with her young friend. Cassandra looked at the project as a way to give back to the community and honor Alexa.
After raising more than $7500, Cassandra and her crew of eager volunteers turned what had become little more than a 20 x 100 foot stretch of dirt, weeds and broken planting beds into Alexa's Kinder Garden, a rich, interactive "five senses garden."
Cassandra designed the space with the help of her father, Scott Cohen, an award-winning garden designer. It features elements that give young children a number of imaginative ways to experience their senses.
Cassandra; "My goal was to create a Mitzvah project that the kids at the temple would enjoy just like I did when I was at the preschool. I wanted to create something beautiful to keep my best friend's memory alive."
The garden begins with a reflexology path that gives bare feet a fun way to explore the sense of touch. Little feet learn by walking along a path that changes from smooth concrete to rough sand-wash to tickly pebbles to cool, round cobble. For another touchable experience, a bed of velvety lamb's ear is planted at the end of a colorful, acid stained hopscotch path.
To highlight the sense of smell, children experience a variety of delicious fragrances in an aromatherapy garden planted with rose and chocolate scented geraniums, roses, rosemary, lemon, nutmeg and lavender.
Nearby, whimsical tortoise and hare benches invite everyone to stop and smell the roses. Each bench is flanked by two small fruit trees. On one side, pomegranate trees whose fruit is said to contain 613 seeds, corresponding to the number of mitzvahs in the Torah, offer a traditional symbol of human kindness. On the other side, an apple and clementine produce pick-and-eat treats.
Curious taste buds are tempted by more plantings in raised beds on the other side of the garden. At harvest time, children can taste the vegetables, licorice, small fruits and other edibles they've planted and tended themselves.
To stimulate the sense of sight, the garden features an explosion of colorful flowers and vegetation in a number of contrasting textures. A reflecting gazing ball enhances the visual experience. The relaxing sounds of wind chimes ringing and leaves rustling in the breeze complete this five senses garden.
Cassandra Cohen's contagious enthusiasm for the project led to an outpouring of support from the community. To make Alexa's Garden a reality, Cassandra recruited over 85 volunteers and gained sponsorship from numerous area businesses and organizations. Sponsors are recognized by name in decorative ceramic tiles that were hand-painted by Cassandra and her sisters in their father's ceramics studio.
Dozens of young people from Cassandra's school and temple were eager to join the effort. Her father's company, the Green Scene Landscaping and Pools, performed the initial ground work. With so many volunteers, most of the planting and other manual labor was completed in just one weekend.
At the center of this inspiring garden now stands a memorial honoring Alexa. It reminds visitors of her young life and the many friends who treasure her. It also serves as a reminder that kind acts, hard work, and youthful exuberance can, with time, turn a tragic loss into a joyful celebration of life.