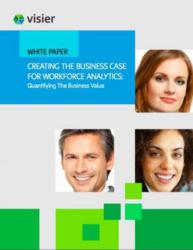 Vancouver, British Columbia (PRWEB) September 18, 2012
Visier Inc., the innovation leader in workforce analytics, announced today the release of a new white paper, "Creating the Business Case for Workforce Analytics: Quantifying the Business Value," that outlines the creation of a business case for workforce analytics. Designed for HR professionals, the white paper provides best practices, practical advice and a methodology to both quantify the ROI of workforce analytics, and to encourage management to act on insights gained from the analysis. Examples and sample calculations are included that can serve as a foundation for HR professionals to create their own compelling case, in financial terms, for workforce analytics.
Complexity in today's workforce, new technology investments, economic pressures, finding talent to gain a competitive edge, aligning the people strategy with the business strategy and unleashing creativity are driving a change in HR to be information-savvy. Today's leaders are faced with unrelenting pressure to drive both strategic and operational performance for their organizations. Workforce analytics can help those leaders: reduce labor costs, improve productivity, attract and retain top talent, and implement workforce strategies to support key business objectives. Businesses exist to grow profits. Regardless of how well a new technology improves a business process, the decision to implement it must be justified by a measurable, significant, positive impact to the bottom line.
When making the case to senior leadership for a major investment in HR solutions, credibility is often on the line and HR needs to speak the language of the executive audience. HR needs to feel confident they can understand and articulate both the cost and potential value of the investment. The opportunity for workforce analytics extends beyond such topics as retention, compensation, or recruiting and can have a major impact on productivity, revenue and expenses for an organization. Understanding the ROI in terms of an organization's performance and profitability is critical to gain senior leadership support.
Additionally, new technologies and business models have changed what defines best-practice workforce analytics. By eliminating the need to implement large-scale and expensive on premise systems, adoption of cloud-based workforce analytics can have a significant impact on the ROI, and on the time-to-value realization for an organization.
"Surveys show that companies that focus on their people outperform less people-centric organizations in the most important financial metric – shareholder return," according to John Schwarz, Founder and CEO of Visier. "Investments in workforce analytics generally pay for themselves through operational improvements in a matter of months, and the long-term financial benefits in profitability, competitive advantage and shareholder value make it an imperative for every organization."
This white paper, "Creating the Business Case for Workforce Analytics: Quantifying the Business Value," addresses the value or ROI your organization can expect from a workforce analytics initiative, how to calculate both the short and long-term pay-back on your investment, and most importantly how to drive the business case for the necessary support and budget from executive leadership.
Readers of this white paper will learn about:
1. Structuring the Business Case—Recommendations for a structured approach to building a workforce analytics business case.
2. Measuring Efficiency Gains—How new technologies create efficiency gains related to maintaining existing systems and/or reducing the costs of licensing systems.
3. Quantifying Direct Benefits—Cost savings that result from the direct application of information from workforce analytics, such as reduced benefits costs, increased recruiting efficiency or turnover reductions.
4. Determining Secondary Benefits—Improvements in business results that derive from applying workforce analytics to improve employee effectiveness.
To download the complimentary white paper, visit http://info.visier.com/white-paper-creating-the-business-case-for-workforce-analytics?utm_campaign=HRMarketer-Create-Business-Case-WP-PR&utm_source=Online
About Visier
Headquartered in Vancouver, B.C. and San Francisco, Calif., Visier delivers workforce analytics through the cloud to empower HR professionals with the most critical insights for optimizing their people strategy to meet their business strategy. Visier's unique analytics combine the sophistication of predictive capabilities with the ease-of-use of consumer applications. Founded in 2010, by business intelligence experts - including former Business Objects chief executive officer, John Schwarz, the company's leadership team has a proven track record of technical, operational and strategic management success with companies such as IBM, Business Objects, SAP and Symantec. For more information, visit http://www.visier.com.
Media Contact:
Melanie Aizer
Visier Inc.
778.331.6955
melanie.aizer(at)visier(dot)com
This press release was distributed through PR Web by Human Resources Marketer (HR Marketer: http://www.HRmarketer.com) on behalf of the company listed above.