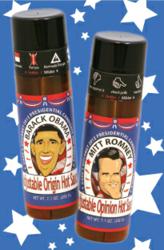 Our last hot sauce race predicted the current President and we think that it will work again.
San Francisco (PRWEB) September 19, 2012
Dave's Gourmet is trying to figure out if hot sauces can predict the winner of the 2012 Presidential race. They are running their Barak Obama Adjustable Origin Hot Sauce against their Mitt Romney Adjustable Opinion Hot Sauce to see which one gets more votes and more purchases. All profits are donated to the Cancer Research Institute.
Both sauces are based upon Dave's Adjustable Heat Hot Sauce and have a great deal of funny political humor on their labels. Obama's sauce allows you to pick where he was born and Romney's allows you to choose his current opinion. The sauce bottles feature an innovative pump spray that allows users to adjust the heat of the sauce coming out by turning the cap. Also, available on the website is a tracking poll that allows you to see who is winning the race.
Dave's Gourmet is a sixteen time NASFT award winner who produces hot sauces, salsas, drink mixes, snacks and premium pasta sauces. They shook up the hot sauce world years ago by creating the first super hot sauce and more recently have been stretching the pasta sauce category with sauces like their award winning Butternut Squash Pasta Sauce.