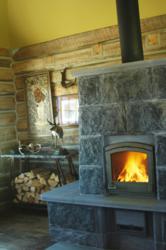 I purchased my first Tulikivi from Ron Pihl at Warmstone Fireplaces & Designs in Livingston, Montana, seven years ago. Then, met with him again when choosing my cabin heat source, den Boer said.
Big Timber, MT (PRWEB) September 19, 2012
A craving for solitude is becoming a trend among busy Americans. When Jackie den Boer built her Montana getaway cabin, she had one "must have" in terms of location: "I wanted a place where I could sit on the porch and not hear a single man-made sound," said den Boer.
Her exact location, which den Boer will only say is "where the prairie meets the Rockies," provides the privacy, wildlife and only the natural symphonies of sound she was seeking. She shared the tale of how her dream retreat embodies an eclectic Montana-meets-the-world confluence of styles and materials.
Its path to construction and completion shows den Boer's ingenuity and appreciation of reusing available materials. The 17 x 70 foot home was built in part from the abandoned barn and farmhouse of a 1900-era homestead. The goal was to create a pioneer-style cabin, placed to take advantage of the mountain views. "The barn was dismantled and restacked as the cabin, using the original barn wood and dimensions," said den Boer. "The farmhouse had to be razed, but we were able to save the oak and fir floors and some beams, which we used in building the new house."
The rugged exterior is capped by a metal roof whose inspiration came from half a world away: den Boer's business trips to Japan. "These were the kind of uniform cover roofs I saw in Japan, but which is very different for Montana," she explained. She traveled across the state collecting corrugated metal sheets to add to the ones found on the old homestead. "There's a simplicity to the lines that is very distinctive, but the style is also practical. Snow falls off the high-slope and it can withstand even 100mph winds, she exclaimed."
When it came to a heating choice, her eyes turned back to Finland. She had spent a summer working in Helsinki, so she was already familiar with Tulikivi soapstone fireplaces when she had one installed in her Livingston, Montana home. Plus, she absolutely loves soapstone. (She's been collecting carved soapstone miniatures since the 1960s.) "I purchased my first Tulikivi from Ron Pihl at Warmstone Fireplaces & Designs in Livingston, Montana. Then, met with him again when choosing my cabin heat source," den Boer said. "Plus, I wanted a radiant heat source to look more like Montana than Scandinavian, to keep the pioneer cabin look intact."
Pihl added, "I was able to custom design a unit that was just the style Jackie wanted, with a soapstone bench on the unit that complements the soapstone in the kitchen and bath."
den Boer concluded with one other advantage of owning a wood-burning Tulikivi, aside from its radiant long-lasting heat, "I don't even have to listen to a fuel truck coming up my road."
For more information on Warmstone Fireplaces & Designs visit http://www.warmstone.com
The Tulikivi Group comprises the Tulikivi Corporation, which is a listed family enterprise, and its subsidiaries. The Tulikivi Group is the world's largest manufacturer of heat-retaining fireplaces. Tulikivi has three product groups: Fireplaces, Saunas and Interior & Design. Tulikivi and its customers value well-being, interior design and the benefits of bioenergy. Tulikivi's net sales are roughly EUR 60 million, of which exports account for about half. Tulikivi employs over 400 people. For more information about Tulikivi, please visit http://www.tulikivi.com or follow them on Facebook at http://www.facebook.com/Tulikivi. For the nearest distributor, call 800-843-3473.
Look for Tulikivi on Facebook, Pinterest, and Twitter.