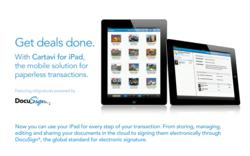 Cartavi allows real estate professionals to have all of their documents at their fingertips at all times and to be able to take action with their documents from anywhere,
Naperville, Illinois (PRWEB) September 18, 2012
Cartavi™ (http://www.cartavi.com), the leading mobile document management platform for real estate, and Utahrealestate.com Multiple Listing Service (MLS), the leading MLS serving real estate professionals across Utah, today announced the launch of an affiliate program to help Utah REALTORS® benefit from the convenience, mobility, and increased customer responsiveness provided by Cartavi.
"The partnership with Utahrealestate.com MLS represents another milestone for Cartavi in bringing our solution to real estate professionals across the United States and Canada," says Cartavi CEO Glenn Shimkus. "Working with Utahrealestate.com MLS is especially exciting for us for two reasons. They are the first MLS with which we are partnering, and they announced a similar partnership earlier this year with DocuSign® – a strategic partner of ours. By working together, we will be able to provide Utah real estate professionals with the industry's leading solution to go paperless and be mobile."
Cartavi's cloud-based solution lets real estate professionals securely manage and share documents with everyone involved in a transaction using any computer, iPad, iPhone, Android tablet, or Android phone. With Cartavi, real estate professionals can:

Be Productive: Store, access, and share documents from one online place
Be Mobile: Access and share documents from anywhere
Be Secure: Protect client documents, minimizing the risk of identity theft
Go "Green": Reduce the need to print documents
Save Money: Reduce the costs of paper, printer cartridges, and shipping
The partnership represents Cartavi's first working relationship with a Multiple Listing Service to actively promote Cartavi's mobile document-management platform to the MLS' members. Utahrealestate.com MLS is the largest MLS in Utah and provides MLS service to more than 90% of the real estate professionals in the state.
"Cartavi allows real estate professionals to have all of their documents at their fingertips at all times and to be able to take action with their documents from anywhere," said Rebecca Jensen, CEO at Utahrealestate.com MLS. "Cartavi will help Utahrealestate.com MLS members become paperless while being mobile – an elusive goal in the real estate industry."
About Cartavi
Cartavi is a cloud-based document-sharing solution designed specifically for real estate professionals. Also available as a mobile app for Apple and Android devices, it allows everyone involved in a real estate transaction to securely manage and share documents from any computer, tablet, or smartphone. Founded in 2009, Cartavi is based in Naperville, Illinois. For more information, visit Cartavi.com or call 888-600-4146. Follow Cartavi on Twitter, Facebook, and LinkedIn.
About Utahrealestate.com MLS
Since 1994 Wasatch Front Regional MLS has been the leading provider of real estate software and information for REALTORS in Utah. The company's Multiple Listing Service (MLS) technology, Utahrealestate.com, is the preferred REALTOR tool for listing and searching properties available for sale, and what separates the company from other real estate information sources. Utahrealestate.com has more than 10,000 REALTOR customers using its MLS technology. In 2011 nearly 27,000 real estate transactions worth more than $5.8 billion in sales volume were conducted using Utahrealestate.com technology and MLS data.