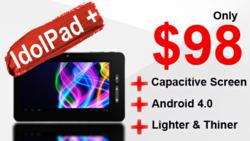 The partnership between Idolian and MobiSystems really benefits our customers – users of the tablets PCs – as they'll more easily be able to access tools to help them create more efficiencies in their mobile lives
NEWPORT BEACH, CA (PRWEB) September 19, 2012
Idolian Mobile, a leading manufacturer and distributor of tablet PCs and tablet accessories, today announced that it has partnered with MobiSystems, developer of cross-platform mobile applications and personal productivity software for smartphones. The partnership allows Idolian Moble the ability to further increase its tablet PC's functionality with MobiSystems' free version of "OfficeSuite."
Beginning in October 2012, all of Idolian Mobile's tablet PCs will come pre-loaded with the free version of MobiSystems's OfficeSuite. The full version of the program also is available for purchase if users desire it.
Idolian's tablets will now allow users the ability to perform a variety of functions including:

Opening of DOC, DOCX, DOCM, RTF, TXT, LOG, XLS, XLSX, XLSM, CSV, PPT, PPTX, PPTM, PPS, PPSX, PPSM, EML, PDF and ZIP formats
Printing documents with Google Cloud Print or a previously installed third-party printer
Converting text documents to PDF files
Spell-checking document using Google ICS spell-check
Reviewing thumbnail previews in slideshow mode Support for animated slideshows
Embedded images and charts (in Excel module)
Compatibility with Google Drive, Box, DropBox, Microsoft SkyDrive and SugarSync.
Wi-Fi Direct support
"The partnership between Idolian and MobiSystems really benefits our customers – users of the tablets PCs – as they'll more easily be able to access tools to help them create more efficiencies in their mobile lives," said Jay Kim, founder and president of Idolian Mobile. "We at Idolian continue to identify tools that benefit our customers by not only offering some of the best wholesale direct-to-consumer PCs, but mobile solutions that allow them more integration with their other technology tools.
"The partnership with MobiSystems helps us meet those goals, as well as improve our products, while also allowing us to remain competitive in the market," Jay added.
Idolian's Android tablet PCs feature capacitive touch screens with one of the fastest processors available in a tablet PC: a Cortex A8 1.2 GHZ processor, 512 MB RAM, 4GB standard flash drive expandable using micro secure digital (SD) card up to 32GB running on Android ICS/4.0 which will get upgraded to Android 4.1 Jelly Beans. It also comes loaded with Adobe Flash Player, has a charger port and headphone jack.
The battery life supports four to six hours of web surfing or gaming.
Idolian offers a full line of wholesale tablet PCs directly to consumers and business. Its devices are used in schools, by government agencies, businesses and by casual users. Idolian offers discounts to schools and businesses. Accessories, including cases, charger cables and screen protectors, are also offered though Idolian's website, Idolian.com, and free shipping on all orders.
Each of Idolian's tablet PCs come standard with a one-year limited warranty serviced in the U.S. Idolian also offers extended warranties and protection plans for sale only on idolian.com.
For more information about Idolian, visit http://www.idolian.com or email support(at)idolian(dot)com.
For more about MobiSystems, visit: http://www.mobisystems.com.
About Idolian Mobile
Founded in 2010 and headquartered in Newport Beach, California, Idolian Mobile is a supplier of tablets and tablet accessories. Idolian.com is a division of Idolian Mobile Inc., a global wholesaler and retailer of tablet personal computers. Idolian provides discounted tablet PCs to customers worldwide.
About Mobile Systems
Since 2001 Mobile Systems is a pioneer in multi-device, cross-platform mobile application development and a leading provider of personal productivity software for smartphones. Mobile Systems helps its customers extend the functionality and content of their devices regardless of their underlying mobile operating system. Currently its software solutions are available for Android, iOS, BlackBerry, Symbian and Windows Phone.
OfficeSuite is has been preloaded on more than 50 million devices worldwide by manufacturers as Amazon, Sony, Alcatel, Archos, FoxConn, Pandigital, Olivetti and many others.