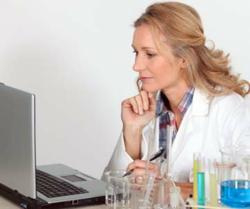 The Green Field Finder offers scientists a giant step forward in finding unclaimed opportunity
Menlo Park, CA (PRWEB) September 18, 2012
In response to the life science industry's cry for improved research technology, Code-N Technology, Inc. is announcing an early access program to its cloud-based software that empowers scientists to quickly discover new opportunities for drug candidates. Chemists looking to find 'green fields" of opportunity not yet claimed by their competition can access the Green Field Finder and perform concept-based searches that deliver results orders of magnitude faster than other commercial products.
According to Forbes Magazine, drug lead discovery is stalled because it takes 10 to 16 years and costs between $4 billion and $11 billion to create a successful new drug. And according to the Wall Street Journal, the pharmaceutical industry will lose $35 billion this year due to patent expirations. Code-N has acted to help alleviate these problems by providing next-generation software based on the open-architecture data model adopted by the pharmaceutical industry, which will speed up drug discovery and deliver cures faster.
"Today researchers and chemists perform complex searches that take days to complete, whether trying to find freedom-to-operate or traversing dozens of databases," commented Dr. Chris Waller, Chem-Informatics Pharma Executive and Advisor to Code-N. "Our industry needs to leverage new technologies that help overcome current limitations. Code-N's concept-based software has been designed to speed up access to all cross-domain relevant data that's needed for further discovery."
"Green Field Finder (GFF) offers scientists a giant step forward in finding unclaimed opportunity," stated Randy Haldeman, CEO of Code-N. "Most of the easy targets have been found, so linear searches to discover drug-gene-disease combinations simply don't work anymore. GFF offers a multi-dimensional search that can instantly reveal whether a competitor is working on a particular target already or better yet, if there is strong potential for freedom-to-operate. In comparison to honing a search for 2 to 3 hours to find a result, the Green Field Finder can deliver the answer in 2 to 3 seconds."
The Early Access program will enable a select group of companies to get immediate access to the software to test out their latest hypothesis on new drug leads. The program offers advantageous pricing and support, along with input and first access to new versions of the software. In addition, customers will be invited to participate in innovative case studies. This GFF Early Access program is available immediately by contacting Code-N at "info at code-n dot com."
About Code-N
Code-N is a next-generation cloud computing company that leverages an advanced semantic web technology to deliver software solutions to business crippling "Big Data" problems that cannot be solved with today's keyword-based Internet software and search technologies. Code-N is privileged to be an initial software provider of concept-based business solu¬tions that will make massive data interoperable, unambiguous, non-redundant, and accessible for extracting industry specific intelligence.
Code-N is a privately held Silicon Valley company, headquartered in Menlo Park, CA. For additional information, visit http://www.code-n.com.
Code-N Technology, Inc., Code-N, the Code-N logo, and Green Field Finder are registered trademarks, service marks or trademarks in the United States and/or in other countries. All other company names, product names, brands, or trademarks mentioned in this document are the property of their respective owners.