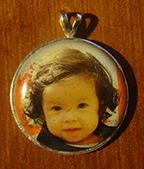 Your Future Starts Now
Los Angeles, CA (PRWEB) September 19, 2012
Laura Frias was like many struggling middle class professionals trying to make ends meat on a teacher's salary. Her days were spent educating children while her nights were spent agonizing over bills. As fate would have it, one day she had an art project lying on her desk when one of her student's mothers walked in the classroom. The art project featured a picture of a child fitted neatly into a pendant. The mother asked if Laura could make her one. She said yes and "BabyFace Pendants" was born.
Laura still has her day job because of her passion for teaching, but no longer spends nights worrying over bills. Today her business generates a full-time income from the comfort of her own home. An educator at heart, Frias is also teaching others how to start their own BabyFace Pendants business from their home with an investment of just $200.
Her website, BabyFacePendants.com recently launched and provides people with immediate access to her ebook on how to start their own business as well as a 15 chapter marketing eBook and step-by-step blueprint on how to grow the business.
Frias' business grew virally with no marketing efforts. She made a few pendants for her fiends and family and the word quickly spread. She was teaching children by day and making pendants by night. She eventually hired an assistant to fulfill orders and another employee to make pendants. When asked about her business Frias stated, "If somebody would have told me that I could make a full-time income from a simple workstation in my home, I would not have believed them. I did not believe it until I did it for myself. I had no business experience, no capital, no one to lead the way. I'm living proof that the American dream is still alive and well. If I can do it – anyone can."
Frias goes on to say, "I'm still teaching the kids their ABC's, but I'm also teaching adults the ABC's of having a successful business – and I love it!."To learn more about Laura Frias and to order her eBook on how to start a BabyFace Pendant business, visit her website at http://www.babyfacependants.com today.
Media Contact:
Laura Frias
Teacher/Founder and CEO of BabyFacePendants.com