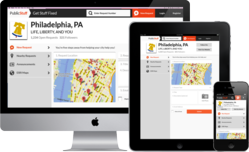 Local governments have never before had the opportunity to customize and publish their own widgets to create their own city hall mobile experience.
New York, NY (PRWEB) September 18, 2012
PublicStuff, the leading Saas provider that connects cities and residents through web and mobile tools to increase community engagement, has raised the bar to provide an even higher quality experience for citizens. PublicStuff, the company that built the highly successful Philly311 mobile app, has publicly launched its mobile v2.0 version. The new version is currently the most robust civic engagement mobile tool on the market and will help modernize the way local municipalities interact with their citizens.
The new mobile version includes an improved user interface that will make it easier for public users to navigate the mobile app and PublicStuff web platform. In addition to the friendly user interface, the entire PublicStuff platform is now 100 percent responsive, which allows for optimal viewing of the platform from any device, whether it's on your desktop, laptop, iPad or mobile.
Another unique feature of the mobile app includes the ability for cities, like Philadelphia, to completely brand the app with self-skinning tools and further control the functionality of the applications through the backend software system. Cities can upload their logo, change their color, update their description and then publish it immediately, without having to wait or go through a lengthy process. Another exciting feature that isn't available on any other city mobile app today, is the ability for cities to utilize a number of widgets. Every PublicStuff mobile app comes with widgets for users to submit public service requests, such as potholes, graffiti, broken streetlights and more, and have those requests sent directly to the correct city department to be addressed. Other widgets that come with the mobile app include nearby requests, where users can view nearby public requests in their area. By viewing nearby requests, users will be able to "vote up" service requests that they support in their area and share it with their friends and neighbors to get the issue resolved even faster.
In addition to the standard set of widgets that come with the new mobile app version, PublicStuff is unveiling a catalogue of widgets that will make the citizen user experience more relevant and personal. Some widgets include "Public People", profiling city leaders and administrators, an announcement widget, Public Places and many more. Cities can even create their own widgets, such as a business promotion, city sports team, calendar of events, citizen polling, etc, and have those widgets published immediately.
"We are really excited to launch the mobile v2.0 version of PublicStuff" said PublicStuff CEO & Founder, Lily Liu. "Local governments have never before had the opportunity to customize and publish their own widgets to create their own City Hall mobile experience for their citizens. The opportunities are endless and allow them to cater to their citizen needs, by highlighting businesses for economic recovery, or other engagement topics relevant to their community. The idea is that it's there for the cities to use, however they wish and we're excited to be able to offer that."
The new mobile v2.0 version is quickly gaining recognition. Philadelphia, PA, the 8th largest city in the United States, recently launched their branded version of the app, Philly311, to rave reviews. Mayor Nutter credits the app with bringing "city services to citizens' fingertips". Within days of launching Philly311, over 2,000 people have downloaded the app and have been using the request tool to report public service issues and connect directly to Philadelphia's 311 system. The New Jersey Technology Council also recently awarded PublicStuff an award for its precise geo-locating capabilities, which allows the app to accurately detect your exact location for service request needs, as well as save that location for request submissions at a later date.
PublicStuff is currently in over 200 cities nationwide, allowing more municipalities to do more with less with enhanced accuracy like never before. PublicStuff also is able to integrate with any existing backend workflow system like Cityworks, Lucity, Novo and more to further optimize city staff member efforts. This automatic update prevents city staff members from having to manually enter in the data. The integration will make it possible for city staff members to further optimize their workflow process and provide city services more quickly and efficiently. In addition, the integration allows for the storage of all previously stored historical data in both systems, so that it is accessible by city staff members at any time. The added integration and accessibility allows city staff members to spot trends as they're happening and make more data driven decisions, leading to smarter, more efficient city management.
To learn more about the PublicStuff and the mobile v2.0 version, please visit publicstuff.com or download the new app by visiting: http://www.publicstuff.com/mobile.