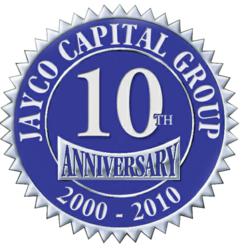 Increases to the average consumer would be about $1250.00 in upfront fees or $429 a year in interest.
Newport Beach, CA (PRWEB) September 18, 2012
Jayco Capital Group - As part of the Payroll Tax Cut Continuation Act of 2011, there is an additional government guaranteed surcharge being implemented in all government sponsored loans. The additional fee will be added to the interest rate and will not be disclosed separately to the consumer. Banks will begin implementing the "G-Fee" This week [9/17/2012]. The first "G-Fee" was implemented earlier this year in April 2012.
Although market indicators and the QE3 announcement have driven mortgage interest rates down in the last week they are going to lose much if not all of their gain. According to Don Stolan of Jayco Capital Mortgage, if a consumer was getting a 30 year fixed mortgage at an interest rate of 3.75% with not closing costs as of today the difference that a consumer would pay could be as much as.50% for the same rate after the fee is implemented. On an average size loan of $250,000 the increased cost to the borrower would be $1,250.00 [250,000.00 x .005]. Should one choose to include the fee into the interest rate it could increase the interest rate as much as .25%. The difference from 3.75% interest rate to a 4.0% interest rate on the $250,000 loan would costs consumers $429 extra in interest annually or an additional $12,870 for the life of the loan.
For a consumer sitting on the fence waiting for the lowest possible interest rate today or tomorrow would be the day to lock in a low fixed rate before the "G-Fee" takes hold. Should one miss the "G-fee" deadline speak with a qualified mortgage broker or banker about all the options. In the scenario above if one paid the "G-Fee" out of pocket, the investment could be recouped in as short as 3 years time saving thousands over the life of the loan.
Don Stolan is a nationally recognized top producing loan officer for Jayco Capital Mortgage DRE-1323073 NMLS-237541 and can be reached for further comment at 800-714-2324 or don@cmilending.com. The above rates and closing costs are not an advertisement to lend nor are they an offer to extend credit.
For more information, http://www.mycapitalmtg.com or call (800) 714-2324.