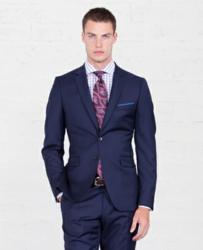 Not only is this event about fashion, but it's also about bringing together the City's business leaders for a unique networking opportunity, designed to forge new relationships
San Francisco, CA (PRWEB) September 18, 2012
City Club of San Francisco is hosting an exclusive fall fashion event on Thursday, September 20, featuring men's and women's fashion shows, trunk shows and discussions of upcoming trends by some of the industry's most notable names. The event, hosted at the 155 Society Lounges, begins with cocktails, hors d'oeuvres and networking at 5:30 pm.
"Not only is this event about fashion, but it's also about bringing together the City's business leaders for a unique networking opportunity, designed to forge new relationships" said Victoria Welch, City Club's club director.
Olivier Renault from Georges Creations will be flown in from Paris to showcase made-to-measure, custom fine menswear during a private trunk show, and will be holding discussions surrounding the latest trends and do's and don'ts in men's fashion.
During one of the fashion shows, a new women's line designed in Los Angeles will be unveiled and available for special purchase, featuring classic looks perfect for business professionals, as well as weekend comfort looks right on trend.
In addition, guests of the event will be served delectable hors d'oeuvres and cocktails provided by the City Club of San Francisco's culinary team. The social aspect of this San Francisco networking event provides an opportunity for business men and women to meet and discuss non-business topics.
City Club of San Francisco's "City Style From the Inside Out," is part of a series of lifestyle events that the club is holding. Future event themes include holiday gift giving ideas, wine, travel, and local artisan cuisine.
The City Style event is being held Thursday, September 20 from 5:30 pm until 7:30 pm inside of the City Club at the 155 Society Lounges at 155 Sansome Street 9th Floor. For information about event reservations at the City Club of San Francisco, call Victoria Welch, Club Director at 415-362- 2480 214.
About the City Club of San Francisco
The City Club of San Francisco is a private club and party venue that plays host to elegant San Francisco corporate events and personal gatherings. CCSF specializes in undeniably fabulous San Francisco wedding receptions, rehearsal dinners, bridal and baby showers, and business meetings, networking events, awards dinners, seminars, workshops, retirement parties, anniversary parties, birthday parties, Bar/Bat Mitzvahs, alumni receptions, bereavement packages, social galas, holiday parties and fundraisers.
In addition to its own world-famous art and architecture, CCSF actively promotes the art and culture of San Francisco through collaboration with premier arts and cultural organizations to bring unique programs to the Club and its membership.
CCSF members include business, government and community leaders who are actively involved in San Francisco and Bay Area civic affairs. One of the ways that the Club actively supports these activities is by providing a public forum to civic and business leaders to discuss events affecting the City and its people.