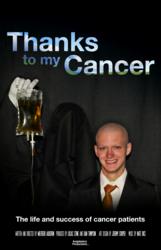 We all have been affected by Cancer in one way or another, a friend, a family member or yourself
Fort Collins, CO (PRWEB) September 30, 2012
A cancer patient who has firsthand experience on survival from terminal cancer directs "Thanks to my cancer". The documentary will use creative ways to motivate patients to fight their cancers despite the remote chances they have for survival.
Cancer is a disease known to be in every person in a dormant stage and only when it is activated one will be diagnosed as a cancer patient. It is far better to have had hope and to have lived ones life fully and plentiful than to have had no hope and to lament about the disease. This type of attitude has the potential to prolong the period of survival for most cancer patients.
This film is going to have such characters as Kung Fu fighters and those who survive the statistics of an a zombies attack to motivate cancer patients. These are occasions where one will perish if he is not prepared to fight but if you fight; there is a very good chance of survival for you. The same applies to cancer patients no matter how deadly the cancer is diagnosed to be.
In the film, the director is going to show numerous success stories where patients have survived after being diagnosed with deadly cancers. These true stories certainly are going to revitalize the cancer patients who have lost hope and waiting for that date any one is scared to think.
Story of the director himself is one of the most encouraging ones for any cancer patient. He has been diagnosed with a rare brain cancer that allows a person a very short time to live, He was given a survival period of just 2 years by his doctors. But he was not prepared to give in though he only had a remote chance of survival. He has taken courage and challenged the situation. Four years later, he is still fitted today, and his brain tumor has got downgraded from a high grade one to a low grade one.
Being the director of the documentary, he is going to collect many more of such stories in order to compile as many success stories as possible in his documentary and offer them to audiences in a manner that will help motivate other cancer patients.
The day Wilfredo was diagnosed with cancer he had no one to help him, but he is going to instill hope in the present day cancer patients with his documentary. This is the importance of this very valuable film.
The film "Hopefully" is going to be screened in 2013. During the course of the next months, the producer is hoping to collect the necessaries Funding to complete the film on time. The first screening of the film will be in Colorado and Pennsylvania. Cancer patients will be given free access to the venues.
In addition to that the producer is hoping to release the film to video on demand platforms in order to make it reach everyone who will find it useful. "Thanks to my Cancer" is a documentary that is going to change the lives of Cancer patients and their families.