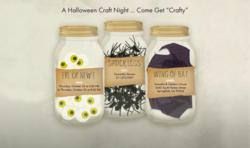 Only 12% of hosts threw parties on Halloween last year when it fell on a Monday, opting to break out their costumes on alternative dates instead.
Los Angeles, CA (PRWEB) September 18, 2012
Evite, the categorical leader in online invitations with more than 31 million registered users who send more than 700,000 digital invitations a day, gives new meaning to Halloween with the unveil of Halloweek, a week-long celebration beginning seven days out from one of the most popular holidays enjoyed by kids and adults alike.
The Halloweek hijinks will be unmasked on Thursday, October 25th and continue through Halloween, Wednesday, October 31st, with ideas such as a "Freaky Friday Costume Exchange Party," a Sunday "Boo-zy Brunch" and "Manic Movie Monday." Each Halloweek occasion is matched by its own online Evite invitation that captures the fun spirit of the activity be it a Jack-o'-lantern carving party or the penultimate scare-o-rama event itself, Halloween.
Statistics culled from past years reveal that Halloween is the most popular occasion for throwing parties behind the winter holidays on Evite, and users aren't just celebrating the holiday on one particular day like Valentine's Day or Thanksgiving. Only 12% of hosts threw parties on Halloween last year when it fell on a Monday, opting to break out their costumes on alternative dates instead. With the launch of Halloweek, Evite is bringing new longevity to the iconic fall holiday in line with these user trends.
"Halloween is a quintessential party occasion for both friends and families," said Hans Woolley, President of Evite. "With Halloween falling on a Wednesday this year, we wanted to give our users some fun suggestions to expand the celebration with a variety of activities that allow them to embrace their inner child and gather with loved ones all week long."
To extend the Halloween happenings beyond one sugar-filled night, the party planning gurus at Evite have created a calendar with festive ways to celebrate each day of Halloweek – from the communal carving of Jack-o'-lanterns to screenings of cult classic scary movies. Evite has also launched a new Halloweek category featuring corresponding invitations appropriate for both adult and kid-oriented shindigs. Like all the 250 million invitations hosts send from Evite annually, they are free for users to both send and receive.
The custom curated invitations are currently available on Evite.com, so hosts can get a jump start on planning their Halloweek bashes, and the full calendar of Halloweek events can be viewed below and online.

Thursday, October 25th – Set the Scream – Find the perfect pumpkin, hit the candy aisle and add some haunt to your house.
Friday, October 26th – A spankin' new costume not in the budget this year? Invite friends over for a Freaky Friday Costume Exchange Party.
Saturday, October 27th – Evite's Halloween – The perfect night for throwing a Halloween bash when the holiday falls on a Wednesday.
Sunday, October 28th – Boo-zy Brunch – Rehash last night's shindig over Bloody Mary's, kid-friendly Monster Mocktails, Pumpkin Pancakes, and Scrambled Brains (Eggs).
Monday, October 29th – Manic Movie Monday – Gather friends and family for a viewing of your favorite scary movie.
Tuesday, October 30th – Host a Pumpkin Carving Party to get those Jack-o'-lanterns ready for trick-or-treaters the next night.
Wednesday, October 31st – Halloween – Invite your kids' pals over for a Trick-or-Treating Party in your 'hood, or break out the mulled wine and get together with friends to hand out candy together.
About Evite:
With more than 31 million registered users, Evite (http://www.evite.com) is the leading online invitation and social event planning service on the Web. Evite helps hosts get their parties started with hundreds of stylish invitation designs that are free and easy to use. Evite facilitates more than 7 million parties, get-togethers and gatherings every year, for which nearly 250 million, tree-free Evite invitations were sent in 2010 – that's more than 28,000 invitations every hour! Launched in 1998, Evite is headquartered in Los Angeles and is a wholly owned operating unit of Liberty Interactive Corporation.
Disclaimer: Halloweek™ is a registered trademark of Evite.