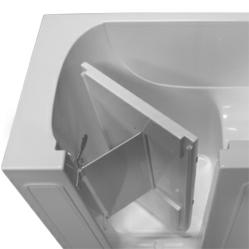 Many walk in bathtubs on the market today are too big to get into most bathrooms, the 2645 walk in bathtub makes installation in smaller applications possible.
(PRWEB) September 18, 2012
Aging Safely Baths & More, a National supplier of walk in bathtubs and walk in showers, is pleased to offer customers with limited bathroom space the HD2645 walk in bathtub. The HD2645 is a compact walk in bathtub that offers bathers optional massage systems as well. Customers can relax in a HD2645 tub and benefit from therapeutic safe bathing while jets provide soothing air massage therapy, hydro massage therapy or use dual massage therapy to relieve aching muscles and reduce pain. Customers can choose the massage system they desire.
An air massage system contains many jets that force out dampened air, which circulates the water to form a mild massaging sensation of thousand of tiny air bubbles. In contrast, hydro water therapy systems shoot water to create more forceful therapeutic stimulation to aching muscles. Diabetics and those suffering from restricted movement or aching muscles can benefit from either massage system, but customers may prefer the feel of one system over another, as air massage is typically less agressive.
The HD2645 offers customers many amenities found in larger step in tubs, but it is perfect for the customer who does not want or does not have sufficient space for a larger tub. Safety features abound in this state-of-the art walk in tub, which offers amenities that increase safety and bathing comfort for mobility impaired individuals and seniors. The HD2645 has convenient grab bars and a non-slip floor. Safe bathing has never been easier for customers who suffer from aching joints or have difficulty moving.
This state of the art walk in bathtub include features that make bathing accessible again for many. Customers can choose from a right or left-hand door constructed from attractive high gloss fiber glass, so regardless of the configuration of the customer's bathroom or their dominant hand, the tub is ideal for their needs. Additionally, the HD 2645 has a hand-held shower along with handsome chrome faucets. The faucets make it convenient to fill the tub quickly while the hand-held shower makes it easy for bathers to wash their hair or rinse their bodies. The 45 gallon capacity ledge free bathtub is also equipped with an interior seat, so bathers can sit down while opening and closing the tub's door.
Zach Wennstedt, CEO of Aging Safely, said, "Many of our customers are concerned that a step in tub will not fit in their bathrooms, and their budget prevents a complete bathroom renovation. The HD2645 meets customers' needs with its compact size, massage system options and safety features. It is an exceptional choice for customers who want to bathe in safety when tub space is limited."
Contact Information:
Zach Wennstedt
1-888-779-BATH(2284)
info(at)agingsafelybaths(dot)com