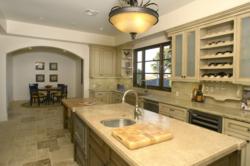 Los Angeles, CA (PRWEB) September 19, 2012
Described as clean lines, simplicity, and a minimalist look, a contemporary household feels current, refreshing, and functional, yet warm and welcoming at the same time. "We are seeing a growing number of clients who want a simple, modern look with straight lines and open, organized spaces," says Ami, co-owner of LA Build Corp a Los Angeles Home Remodeling Company. "Growing households generally appreciate a wide open, modern floor plan. We also see empty nesters trying to simplify their lives with uncomplicated living areas that are beautiful, functional, and comfortable, but require less maintenance."
Of course, a modern day design doesn't have to be "all or nothing." While many homeowners choose to remodel their entire home, many start by reviving one room such as the kitchen, bathroom, or dining room with a fresh, classy, and modern look.
Los Angeles Home Remodeling has seen a rush of homes being remodeled in a contemporary style. Three ways to achieve this popular and stylish look:

Use neutral and earth tone colors that work well throughout the day - colors that are not too bright during the afternoon or too dark at night - as a backdrop. A tone-downed background will allow unique elements, such as a treasured art collection, in the room to "pop."
Contemporary lighting is a relatively simple way to update a home. Recessed lighting, pendant lighting, track lighting, and sconces are just a few of the options.
Simple lines allow shapes and textures to take the spotlight. Unique textiles provide a welcome contrast to the simple geometric lines that make up a contemporary space.
LA Build Corp is passionate and enthusiastic about their work and can help a homeowner with everything, including the design of a space, choosing colors, and selecting the right tile to achieve that one-of-a-kind look. In addition, they offer an eco-friendly approach to building, using green materials and energy efficient products.
Their clients will attest to the fact that this company is truly a jewel hiding within the Los Angeles community. Ranked as one of Los Angeles' premiere general contractors, this second generation building company has an A rating with the Better Business Bureau and can be counted on for providing honest and reliable work with superior craftsmanship. For more information about this full service construction firm, please visit their website at http://www.LABUILDCORP.com.
About LA Build Corp Construction
LA Build Corp Construction not only builds exceptional structures but also understands the importance of building excellent relationships with their customers. With numerous completed jobs and an A rating with the Better Business Bureau, they have earned an impeccable reputation as one of southern California's premiere contractors. They offer new custom homes, kitchen and bath remodels, room additions, and renovations, delivering a space that is warm, stylish, and contemporary. LA Build Corp proudly serves the Los Angeles and San Fernando Valley area.
To find out about contemporary home design Call (877)-628-5292
Or visit http://labuildcorp.com/