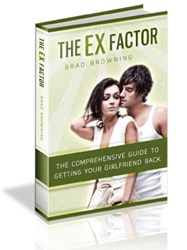 The Ex Factor is a comprehensive guide to getting back together with an ex girlfriend or ex boyfriend.
Vancouver, BC (PRWEB) September 18, 2012
Relationship counselor Brad Browning, a clinical counselor who works with couples to repair and rebuild broken relationships, has finally released "The Ex Factor Guide" program. This new program, which has been under development for more than a year, is a comprehensive guide to getting back together with an ex girlfriend or ex boyfriend.
The Ex Factor Guide, which will be sold as a digital e-book via Brad Browning's website, is a comprehensive program that includes an audio course and video series. The entire Ex Factor program is digital, meaning products are downloadable immediately upon purchase.
Browning, who offers personal email support to customers via his website, says the decision to create an all-digital program was an easy one: "When you're trying to win back an ex or rekindle the romance in a broken relationship, time is of the essence. My customers want help now, not in a week, so the program needed to be instantly accessible to anyone needing guidance."
Initial responses to the launch of the new Ex Factor Guide have been positive. Ricky Booth, a relationship & dating author who has published numerous articles about winning an ex back, says The Ex Factor is "quite simply the best 'ex back' product on the market."
"I really believe this program is an invaluable resource for anyone wanting to get back together with an ex," says Booth, who wrote a comprehensive review of The Ex Factor Guide for his website. When asked if there were any downsides to Browning's new program, Booth notes that "it's only available in English," but had few other criticisms to offer.
Browning, who has over a decade of clinical counseling experience, says writing the new program was a logical step based on his research in the field. "People don't realize that breakups are usually reversible," he says, "and I wanted to develop a comprehensive guide that gives men and women all the information needed to maximize their chances of mending a broken relationship."
More information about The Ex Factor Guide is available from Brad Browning's website: http://www.ExFactorGuide.com/.