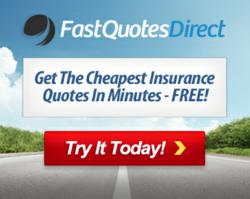 Car Insurance for as low as $30 per month!
San Francisco, CA (PRWEB) September 18, 2012
Let's face it, the economy is still down and consumers are still struggling. With much controversy in the news in regards to Prop 33 in California and other insurance laws consumers are worried looking for ways to keep their vehicles on the road with an affordable insurance plan that will provide adequate coverage in times of need.
FastQuotesDirect.com launched earlier this week to provide consumers with a free, easy and anonymous tool to compare quotes with different insurance companies in their area. The benefits to how the site is set up are the ease of use in returning quotes making the process quite simple yet still very effective.
Visitors to the site have the opportunity to find quotes in their area in just a few minutes with no obligation to sign up and the first step requires no contact information or aggressive sales calls to pressure them into making a decision.
"The ability to return quotes anonymously helps give the people piece of mind that they are getting honest rates, knowing that we only work with qualified insurance companies helps them make a decision with confidence." said a representative of the site.
A site that puts the control in the consumers hands for a change is a very welcome addition. The fact of the matter is whether consumers decide to agree to a new insurance plan through their website or not isn't necessarily the site's end goal. FastQuotesDirect.com operates on the premise that being on the consumers side and helping to educate and provide a quality service will be the ultimate path to their success.
"The consumer should always feel as though there is a solution to their problems. Where there is a competitive market such as insurance there are always options available to consider. No one should feel tied down to a company. FastQuotesDirect.com provides the insurance quotes as a free service and through our service we hope to help consumers see there are always possibilities for more savings."
To visit the new site today and compare quotes for free visit FastQuotesDirect.com