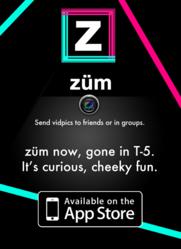 (PRWEB) September 18, 2012
Divide Nine, a Los Angeles based animation and interactive studio, announces the release of the updated version of their no-regrets social video messaging app for iPhone and iPad – züm. This upgrade ushers in a new era for züm with a more streamlined user experience, a rate-the-züm emoticon system, updated friend search capabilities and a new layout.
züm, whose initial version hit the iTunes app store in August 2012, allows users to send an unlimited amount of short five-second video messages to their friends, which immediately self-destruct after being viewed, "Mission Impossible" style. Now, it is even easier to share these "no-regrets" messages with friends thanks to the new version.
züm's New Features Include:

Ability to include profile picture for ease of recognition
Streamlined user experience in sending and receiving video through the option to reply to received/watched züms
Brand new "record" screen
New feature to invite friends through importing contacts from users phone
Rate-the-züm emoticon system
Invite friends to join züm through the app
Co-creator of züm and Head of Interactive at Divide Nine, Nick Loui, says "The new züm begins to push us into a different league of social and interactive gameplay. We love the unique community that's beginning to develop from züm and have listened to every single piece of feedback we've received from our zümmies."
The new version of züm (zum) is available for free in the iTunes app store TODAY. Download it now at http://gozum.me.
For more information on züm, go to successzum.com.
About the company behind züm, Divide Nine:
Krishna and Lisa Gopala founded Divide Nine in 2008 after successful tenures as executives at companies such as Phillips, MySpace, and Cafedirect. With a variety of projects in development including animated feature films, social platforms, and mobile games, Divide Nine has positioned themselves at the intersection of entertainment and technology in a visionary way. With a staff of seasoned, heavy hitting industry veterans combined with emerging, fresh talent, there's a buzz surrounding this company that makes them one to watch in the coming years. For more information visit dividenine.com.
Media Contact: Jenn Deese, Melrose PR, jenn(at)melrosepr(dot)com, 310-450-7960, melrosepr.com