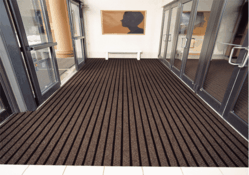 This fall, busy storefronts are smart to consider recessed grill mats. Depending on the make and model, recessed grill mats are known to trap up to 60% of incoming debris.
Rockville, MD (PRWEB) September 18, 2012
Eagle Mat and Floor Products announces deep discounts and free shipping on leading facility safety products. The fall promotion celebrates the 1st anniversary of Eaglemat.com, the Maryland-based company's virtual store and one-stop-shop for the industry's leading commercial mats, elevator pads, crowd control systems, and other facility safety products. The discounted prices and free shipping come just in time for fall, the season during which businesses most prepare for inclement weather and increases in storefront shopping.
Last year, the Liberty Mutual Workplace Safety Index reported slip-and-fall accidents cost American businesses an estimated $13 Billion in total cost burden. Coming in a close second were the costs of employee overexertion, amounting to an estimated $12 Billion. The demand for facility safety products has surged since 2011, with businesses proactively seeking products to make storefronts, production areas, and other facilities a safer place to work and shop.
Entryways, including outdoor areas and indoor vestibules, are a priority when it comes to effectively managing both visitor and employee safety. Entrances are heavily trafficked in virtue of the building access they provide, and these areas are among the most dangerous when left to fall into disrepair. Entrance mats are the most cost-effective solution for preventing hazardous conditions like rainwater accumulation, debris buildup, and general floor damage. And while maintenance personnel are always a necessity, businesses are increasingly looking for entrance matting solutions that absorb, contain, or conceal upwards of 50% of incoming debris.
"Busy storefronts are smart to consider recessed grill mats," explains Eagle Mat CIO Jon Blumberg. "Depending on the make and model, recessed grill mats are known to trap up to 60% of incoming debris." Blumberg goes on to explain that the benefits of trapping such a large amount of debris goes far beyond keeping floors clean.
"The more debris you trap at the entryway, the less there is to circulate throughout the building. Following the installation of recessed mats, it is common for our clients to see improvements in both indoor air quality and general interior cleanliness." According to Blumberg, clients report corresponding decreases in hard costs like facility maintenance and cleaning. There are also intangible benefits to be realized, including improvements in employee job satisfaction and general health. Reassessing facility safety does not end at the entryway, however.
Overexerted employees cost businesses upwards up $12 Billion in 2011, prompting organizations to seek products that keep employees safe, alert, and productive in work areas. Anti-fatigue mats have become a popular solution, primarily for their ability to provide two vital benefits: Traction, and ergonomic support. Anti-fatigue matting is constructed with multiple layers of compressible PVC, Nitrile rubber, or chemical-resistant vinyl. The compressibility of these ergonomic mats reduces employee fatigue by stimulating muscle fibers in the feet, legs, and lower back. Anti-fatigue floor mats are available in a variety of traction-enhancing surface textures as well, helping to reduce slipping, skidding, and tripping in production areas.
As summer 2012 draws to a close, the team at Eagle Mat and Floor Products cannot help but reflect on the past year with a sense of proud accomplishment. In just over 12 months, the Maryland-based company has successfully positioned Eaglemat.com as the Web's leading provider of the industry's most popular facility safety products.
For businesses in the Washington D.C. Metro Area, additional floor mat rental service is available. This "hassle free" solution includes the creation of fully customized mats as well as product installation, rotation, and laundering.
Readers are invited to shop floor mats, elevator pads, crowd control systems by Tensabarrier, and other products online at Eaglemat.com. For assistance with sizing, product selection, and more, contact Eagle Mat customer service at 877-333-1018.