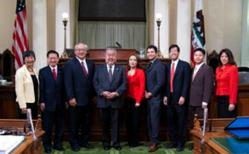 We are excited to present this new website, which is designed to encourage more APIA participation in the political process and raise public awareness about the issues affecting our communities
Sacramento, CA (PRWEB) September 18, 2012
Assemblywoman Mary Hayashi (D-Hayward), vice chair of the California Asian Pacific Islander Legislative Caucus, announced the launch of its new website at http://www.apilcaucus.com. The mission of the Caucus is to represent and advocate for the interests of the diverse Asian and Pacific Islander American (APIA) communities in California.
"We are excited to present this new website, which is designed to encourage more APIA participation in the political process and raise public awareness about the issues affecting our communities," stated Assemblywoman Mary Hayashi.
The new website provides a profile of the current eleven Members of the Caucus, which includes eight Members serving in the State Assembly and three Members serving in the State Senate. This is the most number of Members since the Caucus was established in 2001.
Assemblymember Warren Furutani and Assemblywoman Mary Hayashi serve as chair and vice chair, respectively. The Caucus membership also includes Senators Carol Liu, Ted Lieu, and Leland Yee, and Assemblymembers Mike Eng, Paul Fong, Fiona Ma, Richard Pan, Das Williams and Mariko Yamada.
The Caucus seeks to increase APIA participation and representation in all levels of government and work in coalition and partnership with other like-minded organizations in other communities. Consequently, the new website features information about APIA candidates in the upcoming election, as well as about ballot initiatives that will impact APIA communities. The site integrates social media, providing current Twitter updates and a tie into the Facebook community.
For more information, please visit http://www.apilcaucus.com.
Assemblywoman Mary Hayashi serves the 18th Assembly District, which includes San Leandro, Hayward, Dublin, most of Castro Valley and Pleasanton, and a portion of Oakland, as well as the unincorporated areas of Ashland, Cherryland, San Lorenzo and Sunol.
# # #