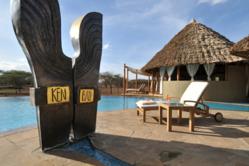 The KENBALI SPA is the first wellness Spa of its kind, offering the first and only Ying-Yang swimming pool in Kenya
Mombasa, Kenya (PRWEB) September 20, 2012
Severin Air Safaris in conjunction with Severin Safari Camp has introduced a new luxury scenic air safari that combines the ultimate safari adventure with the unusual spa experience. The new "Tsavo Safari and Spa" package brings the guests to Tsavo West National Park where they can enjoy four nights at the beautiful Severin Safari Camp.
Located in Tsavo West National Park, the biggest game reserve in East Africa, Severin Safari Camp is situated about 250 km away from Mombasa and Nairobi. When visibility is good, the camp offers a beautiful view onto Mt. Kilimanjaro. It is surrounded by a unique landscape that combines vast savannahs and wooded flood plains. The KENBALI SPA is the first wellness Spa of its kind, offering the first and only Ying-Yang swimming pool in Kenya. Guests can relax around the pool area, or enjoy a nice massage by one of the professional therapists.
Departing every Wednesday from Mombasa, the guests will fly on board of the luxurious Cessna Grand Caravan and discover the animals and the scenic highlights from the bird's perspective. The short flight considerably reduces travel time from Nairobi/ Mombasa to the camp from 4 hours to 45 minutes. In the morning and afternoon, guests can go on a game drive through the park and spot the vast wildlife that surrounds the area around the camp. During the day they can enjoy the KENBALI SPA or relax during one of the many other activities available at the camp, and in the evening the can enjoy a drink around the campfire and discuss their experiences of the day with other guests and safari enthusiasts. The full program can be downloaded on the Severin Air Safaris website.
For further information about this service please visit our website http://www.severinairsafaris.com or contact us via sales(at)severinairsafaris(dot)com.
About Severin Air Safaris
Severin Air Safaris is a luxury tour operator based in Mombasa, Kenya and has a range of flying safaris which depart weekly from Mombasa and Nairobi. The company operates the Cessna Grand Caravan which is equipped with digital weather radar, Garmin 3D navigation system and air condition. The private airplane has 8 very comfortable and luxurious First Class leather reclining seats with the ability to move in all directions. The large windows allow guests to observe the passing elephant herds, the hippos close to the rivers and the extensive Kenyan Savannah from a very close distance. Severin Air Safaris is member of the "Out of Africa Collection". Apart from luxury air safaris, the aircrafts are also available for charter flights through Kenya and neighbouring countries. For more information about the company and the products visit the website http://www.severinairsafaris.com and follow us on Twitter or like us on Facebook.