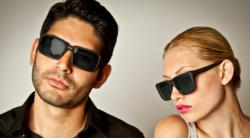 San Francisco, California (PRWEB) September 18, 2012
An 8-bit trend has been rocking the world as of late. From runway fashion shows, electronic music festivals, to hipster hangouts these new style of sunglasses have been all the rage in 2012's hottest fashion trends list according to 3D printed Pixel Sunglasses maker Protos Eyewear of San Francisco, California.
Pixel glasses have been described as Lego like because of their resemblance to pieces from the popular Danish toy manufacturer. Protos is the first company to design a pair that goes beyond 2 dimensions thanks to the ability to create the sunglasses using 3D printing processes.
A number of fans and people looking to purchase the glasses may be wondering, how can these possibly be comfortable to wear? The answer; these designers use generative design software to increase the resolution of select pixels on the parts of the glasses that touch your face.
The DPI (Dots Per Inch) varies from 12-72 DPI on particular pairs created by the San Francisco startup. The futuristic sunglasses also tend to remind those who were Nintendo fans playing Tetris as a child of the days of having similar shapes on their television screen.
Others have described these retro but new age style of sunglasses as cube like. "When you see these in person they truly are amazing as you really think that they are inconceivable when you first look at the photos of them but in real life these cube like shades are the coolest thing I have ever purchased. It's a minecraft lovers wet dream" According to Corey Hart an early adopter of the glasses.
Other popular pixelated items and accessories that have come out recently are pixelated wigs, makeup, towel designs, jewelry, watches, and dresses.
About Protos:
Protoseyewear.com designs and prints 3D printed sunglasses. They are the first company to create 3D printed pixelated designs and are headquartered in San Francisco, California.