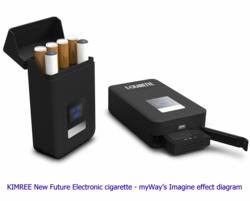 "myWay" product can play audio files!
(PRWEB) September 18, 2012
Recently, "myWay", a series of electronic cigarettes developed by KIMREE, has increased a new product which can play audio files.
Rebort, an electronic cigarette observer, has told IECMA that "myWay" is a code name referring to the products that KIMREE develops to lead the industry's future. "myWay" is not one single or several products, but a series of electronic cigarette products. In the future, there will be continuous new "myWay" products.
Rebort has known from KIMREE that the latest "myWay" product can play audio files, which is co-developed by KIMREE and the largest MP3 manufacturer in China. The new electronic cigarette, however, is still at the test R & D stage, and the audio files it can play are limited to MP3 format.
Andre, the sales director of KIMREE, said to IECMA recently, "KIMREE would like to cooperate with large electronic cigarette brands. We can co-develop products to lead the industry's future."