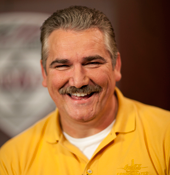 Being on both sides of trailer tracking technology — as a customer using the technology to optimize my company's trailer fleet operations and bottom line, and now as a member of the team. developing and innovating the technology
Knoxville, TN (PRWEB) September 20, 2012
Spireon, Inc., the leading provider of Mobile Resource Management (MRM) solutions used by the trucking industry to maximize mobile assets and workforces, is proud to announce that Mike Edwards, the Vice President of Professional Services, has been invited to participate in a panel discussion at this year's TMW Systems User Conference and Exhibition event, TransForum 2012.
Prior to joining the Spireon team, Mike Edwards served as the Business Process Manager for Coca-Cola Bottling Consolidated (CCBCC), the nation's largest independent Coca-Cola bottler with a fleet of more than 800 trailers and 250 tractors operating across the Southeastern U.S. In that role, Edwards oversaw the implementation of CCBCC's FleetLocate GPS-based Trailer Asset and Intelligence Solution developed by Spireon. As a result of the implementation, CCBCC realized significant savings in reduced labor hours, trailer rental and leasing fees, preventative maintenance-related fees and pallet-loading line shutdowns.
As the Vice President of Spireon's Professional Services, Edwards directs the company's customized solution development to ensure alignment with the trucking industry's challenges, needs and goals. He will be joining a moderated panel of other industry experts on Monday, September 24 at 3:30 p.m. in a session titled "Trends and Technology in Trailer Tracking."
"I have the unique perspective of being on both sides of trailer tracking technology — as a customer using the technology to optimize my company's trailer fleet operations and bottom line, and as a member of the team developing and innovating the technology that resolves customer challenges," explains Edwards.
"I'm confident that TransForum attendees will walk away from this discussion armed with invaluable information, strategies and tools they can use to drive the profitable performance of their trailer fleets," adds Edwards.
One of the largest educational, networking and collaborative events in the transportation industry, TransForum 2012 is offered only for customers of TMW Systems. TransForum 2012 begins this Sunday, September 23, ending Wednesday, September 26 at The Peabody Orlando in Orlando, FL.
About FleetLocate by Spireon, Inc.
FleetLocate is a powerful, flexible and scalable Trailer Tracking and Asset Intelligence solution that provides continuous real-time visibility of large, geographically disperse trailer fleets. Featuring exception-base reporting, FleetLocate is an effective tool for improving operational efficiency, increasing the number of loads per trailer and driving more revenue. The interface is simple to use, easy to navigate, and provides a comprehensive suite of reports designed to help businesses better manage their fleet operations and address many of the operational dilemmas they face daily. To learn more, visit [http://www.fleetlocate.com/trailer
About Spireon
Spireon, Inc., is at the summit of business intelligence and committed to going higher. Headquartered in Knoxville, TN, the company emerged in 2011 as the industry leading Mobile Resource Management (MRM) company as a result of the merger of Spireon, Inc., Inc. with Enfotrace and PFS, LLC, the top three providers in the MRM space. Spireon connects companies to their mobile assets and workforce through game changing information platforms, giving them the power to manage actionable business intelligence. Inspiring companies to reach new heights with powerful Software-as-a-Service (SaaS) based tools, Spireon provides a sturdy foundation on which to optimize performance.
With leading market positions in the Subprime Automotive Finance industry, Local & Enterprise Fleet Management and Trailer & Logistics markets, Spireon, Inc. specializes in developing strong business relationships with leading companies worldwide, enabling it to offer affordable world-class risk mitigation, mobile asset management and location based services to its customers. Spireon, Inc.'s patented array of GPS products and information platforms provide business intelligence solutions through industry brands for automotive dealers, lenders, service and delivery fleets and transportation and logistics companies. Spireon currently has over 1.5 million active devices in the marketplace and forecasts to deliver 800,000 units in 2012. With offices in the North America, Spireon has a proven track record in innovation, customer-focused service, financial stability, powerful vertical distribution networks, and a strong customer base.
For additional information, please visit Spireon, Inc.'s website http://www.spireon.com.
Contact:
Corinna Tutor
949-422-7103
http://mailto:ctutor (at) Spireon (dot) com [ctutor@Spireon.com __title__ Email Corinna with questions]