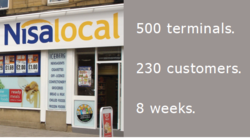 London (PRWEB UK) 18 September 2012
London Nisa is a member owned organization, providing benefits to independent retailers in food and drink markets. The organization has been providing a delightful shopping experience over the last 35 years through 3,850 stores.
Nisa members were facing a number of compliance issues with its payment solution. Their payment service was not fully PCI-DSS compliant. The PIN pads too, required upgrades to conform to the latest standards.
In terms of delivering an alternative solution to Nisa, YESpay offered it's fully EMV pre-accredited & PCI-DSS certified EMBOSS payment service to meet Nisa's changing needs. EMBOSS is already accredited with Worldpay in Nisa's existing PIN pads (Verifone SC5000). YESpay offered the ability to manage a multi-PIN pad estate.
YESpay greatly simplified the process of integrating their existing POS solution (ePositive) with EMBOSS using YESpay's EasyV-Retail interface. Partnering with YESpay has resulted in numerous benefits for Nisa members:
1. Nisa members can now choose their own card acquirer
2. Hardware Device Independence
3. Real Time Transaction Visibility
4. Cost Saving
YESpay was able to initiate a huge rollout of over 500 lines in less than three months. Needless to say, EMBOSS's entry as a payment service has been a sure shot success at Nisa.
Click here to download a case study on Nisa presented by YESpay.
About YESpay International Limited
YESpay International Ltd., a global card payments service company, provides highly secure Internet, EMV Chip & PIN, contactless and gift card payment processing services to independent and multi-chain merchants. Through EMBOSS, the YESpay Managed Payment Service, merchants can quickly accept integrated card payments within EPOS, kiosks, hospitality and e-commerce systems with minimal capital investment and low on-going services costs. EMBOSS is an on-line IP-based payment processing service that has been generically pre-accredited by major Card Acquirers in Europe and North America (including First Data Merchant Service (FDMS), Chase Paymentech, Barclaycard Business, HSBC, HBOS, Lloyds Cardnet, Streamline, Ulster Bank, Elavon, PBS, Amex and Diners). In addition, the YESpay EMBOSS service is fully end-to-end certified to Payment Card Industry Data Security Standards (PCI DSS) Level 1 as mandated by Visa and MasterCard. The YESpay EasyV-Suite of card payment products is innovative and cost-effective for EPOS, Kiosk, Hospitality, Mobile and Internet environments. With the YESpay EMBOSS card payment service, merchants can perform card payments in both card-present and card-not-present environments.
Contact details:
UK Headquarters: Checknet House, 153 East Barnet Road, Barnet, EN4 8QZ, UK | +44 - 203 - 006 – 3790
Canada Office: 116 Spadina Avenue, Suite 201, Toronto, Ontario, M5V 2K6, Canada | 1 855-YES-PAY- 1
PR Contact: Nitasha Jain, Marketing Manager, ext. 402, nitasha(dot)jain(at)yes-pay(dot)com, marketing(at)yes-pay(dot)com