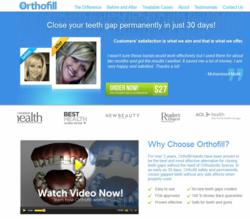 Ottawa, ON (PRWEB) September 18, 2012
Orthofill, the leading provider of synthetic dental bands for teeth gaps, reveals how to close a gap without braces on a series of posts on http://www.orthofill.com/blog/.
This Canada-based dental band offers less invasive, safe and effective orthodontic solution for people who have teeth gaps. Orthofill is a great alternative to braces. It is considered to be the revolutionary treatment to the dental condition called diastema – the space or gap between teeth.
The dental company gives a series of advice to site visitors and clients using their weekly posts. Most posts put emphasis on how to fix gap in front teeth minus the hassle of braces and the costly expense of invisalign and veneers.
Orthofill is the preferred alternative to fixing teeth gaps because it is light on the pockets and easy to use. Just wear it and leave it overnight during sleeping hours to see slight shift daily. Check out their website at http://www.orthofill.com/ to know the treatment process.
The dental bands are made of patented premium grade elastic polymer. It is safe and has no taste, so it is barely noticeable. It is a quick and permanent fix especially for those who don't want to suffer years of braces.
Orthofill offers a 100% Money Back Guarantee. Their company policy is to provide its clients a risk free package. Orthofill values their customers very much. Their customer policy states that "If for any reason you are not completely satisfied you can simply send it back to our mailing address and we will give you a full refund with no questions asked."
For more information on how Orthofill can treat diastema in just 30 days, visit http://www.orthofill.com.
About
Orthofill is a company owned by Clicking Labs, Inc. that started in May 2010.With dedication and perseverance, they were able to bring together a team of multi-talented individuals to provide the world with creative and interesting marketing strategies to drive success to its clients. It has stations in Ontario, Canada and Cebu, Philippines.
###