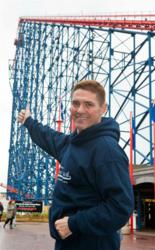 The encouragement I have received since stepping aboard the Big One has been inspirational.
(PRWEB UK) 19 September 2012
He's ridden into the record books and now Richard Rodriguez is saying goodbye to his three-month challenge at Blackpool Pleasure Beach.
For the past 112 days the American has called the Big One at the UK's favourite tourist attraction his second home.
Since May 31, the 54-year-old has ridden the UK's tallest roller coaster every day during the attraction's operating hours, stopping only to eat and for comfort breaks.
He broke the record earlier this month when he surpassed the 103-day target but wanted to stay on board in order to smash the record he had set several years ago.
Cheered on by crowds and invited guests, Richard took his final ride on the Big One before stepping off for a final time to receive a special medal and certificate for his achievements.
During his time at Blackpool Pleasure Beach, Richard will have traveled the equivalent of around 20,000 miles around the Big One track, climbing 235ft and plunging at speeds of up to 85mph.
Richard has also experienced the very best and worst of the British weather and been cheered on by thousands of guests who have also taken part in his epic endurance feat which was dubbed the Big One Marathon Challenge.
He said: "This really has been a challenge I will never forget. The Big One has been my home for the past three months and while it's had its ups and downs, the roller coaster marathon has more than lived up to its expectations.
"The encouragement I have received since stepping aboard the Big One has been inspirational. I have met so many people and I would like to thank every single one of them who have made this challenge so memorable."