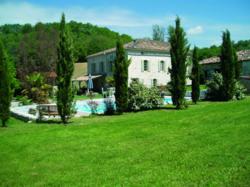 "Confidence among British buyers is at a four-year high; the exchange rate is one factor and realistic pricing is another - there are some amazing bargains to be had right now," says Joanna Leggett, of Leggett Immobilier.
London (PRWEB UK) 20 September 2012
Between 5-7 October 2012, property buyers in search of the traditional French lifestyle will be able to get free advice from French property experts at the French Property Exhibition at London Olympia.
With its traditional way of life, sunny climate and wide-open spaces, France remains enduringly popular with British people who want to escape the rat race and have some change left over. For retirees looking for the new life overseas, France's famed healthcare system continues to be a draw.
The show will feature thousands of dream properties for sale – from country manors to chic city pied à terres to suit all budgets. Entry to the exhibition is free of charge and visitors can pick up advice on the buying process and legal and financial matters at the daily free seminars led by industry experts.
The average UK house price is £164,729, according to a Nationwide report published in August 2012(1), that's more than you'd pay for a three-bedroom renovated winemaker's house among the world-famous Saint-Émilion vineyards(2). For the average price of a London flat(3)– £267,101 – you could pick up a 3-bedroom, 3 bathroom country house complete with swimming pool and a terrace for in dreamy southwest France(4). Add to that the fact that the pound is at a four-year high against the euro and a new life in France becomes increasingly attractive.
This event is organised by Archant Lifestyle, leading publisher of magazines and websites about France: French Property News, Living France, FRANCE magazine and francepropertyshop.com. They have been running property exhibitions for over 20 years in the UK.
For more information and to register for free tickets visit http://www.fpeolympia.com
Notes to editors:
For more information about the French Property Exhibition or to request images and interviews contact Debbie MacLeod, Events Director. Tel: 01242 216087 or mobile: 07918 716950 Email: Debbie Debbie.Macleod (at) archant (dot) co (dot) uk
1 Nationwide House Price Index August 2012:
2 Advertised on the Leggett Immobilier website 10/09/2012:
http://www.frenchestateagents.com
3 Nationwide House Price Index – Data Download
http://www.nationwide.co.uk
4 Advertised on the Agence L'Union website 10/09/2012:
http://www.agencelunion.com