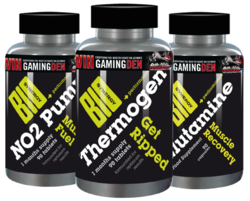 (PRWEB UK) 18 September 2012
It's a dog-eat-dog world, but Bio-Synergy and Tekken are offering anyone the chance to toughen up their bite.
Renowned sports nutrition suppliers Bio-Synergy have developed a special release of their fat-busting and muscle-pumping Performance Range for the upcoming release of Tekken Tag Tournament 2 on September 14th and are offering customers the chance to win an ultimate Gaming Den.
The special release Performance Range will enable any aspiring student the opportunity to develop the body and moves of a martial arts master. With fat-torching Thermogen, strength-boosting Creatine Plus Phase One and Two, and the most powerful whey protein Whey Better, the elite training supplementation of Bio-Synergy can transform any zero to hero.
What's more, Bio-Synergy and Tekken will give one lucky winner the royal treatment for their gaming experience so they'll develop the hand and eye skills of a Master Warrior. One winner will take home a 46' LED flatscreen TV, a PS3 Slim Console with 160GB HDD, 2 sumptuous gaming chairs, and a mini-fridge. With such a decked-out temple of training, developing the elite moves of a master warrior will be a cinch.
Aspiring kung-fu masters need only head to the Bio-Synergy Facebook Page to enter the competition and begin the first step of their journey to bringing their mind and body to elite levels of performance. Tekken Tag Tournament 2 will be released on Sept. 14th on both PS3 and Xbox360 and follows up the popular original release of the title in 1999.
Thermogen
A highly effective fat-burner made from Bio-Synergy's proprietary herbal blend for optimum results. Thermogen will help you burn fat and build toned muscle. As part of a concerted workout regime, Thermogen can help you burn fat to reveal your lean and toned muscles.
Creatine Plus Phase One and Two
Each serving provides pure creatine monohydrate, which is the most researched and popular performance supplement on the planet. Creatine Plus has been scientifically formulated in two phases to take you to the next level in your training program.
Whey Better
Packed with an incredible concentration of high-quality whey isolate protein powder, Whey Better provides a complete workout and lifestyle solution. With 27 grams of protein per serving, Whey Better is tops in the market and is packed with additional micronutrients.
Terms and conditions are available on the Bio-Synergy website. Closing date for entries 30/11/12. The first prize winner will be the first winner picked at random from the draw on 01/12/12. Playstation and PS3 are trademarks or registered trademarks of Sony Computer Entertainment Inc. All Rights Reserved. TEKKEN TAG TOURNAMENTTM 2 & © 2012 NAMCO BANDAI GAMES Inc.