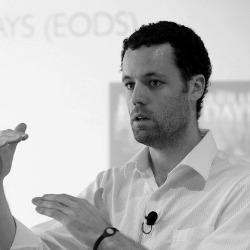 "You need to be worried about the core elements of sales and marketing. That's what really drives a business..." -Pete Williams
Victoria, Australia (PRWEB) September 18, 2012
In its latest episode 'Getting Things Done, But Not Doing Them Yourself,' marketing podcast PreneurCast delves into the topic of how business owners—both online and brick and mortar—should spend their time focusing on the core elements of their business rather than on the mechanics of making it work.
"So many people get caught in this trap of when they start a business, they very often start it about something that they're already skilled at… If you want to grow the business, [if] you want to scale, you absolutely can't [by doing that]," says Goucher, committing to the vision outlined in the old adage: Just because you can does not mean you should. While certain business owners may be incredibly skilled at marketing, sometimes it is more effective to pass the reins onto someone else, especially when a business branches into new territory.
Williams stresses the importance of businesses needing to be worried about the core elements of sales and marketing. "That's what really drives a business. You wouldn't do your own sign writing in your real-world retail store. You'd find somebody who's a sign writer and do that." Some owners and entrepreneurs have come to learn that the best way to establish a business in any given market is to outsource some of the work. For business owners who lack skill with numbers and finances, it would be in their best interests to hire an outside accounting firm or financial advisers to streamline a budget or balance their books at the end of the year.
While mundane things like creating webpages and uploading videos to YouTube are getting easier each day, Goucher is quick to point out that many business owners fall into the trap of attempting to keep up with their own SEO, web design, blogging, and social media marketing rather than leaving it to an outside expert. What owners should really be doing is asking themselves where the value is. There are plenty of small businesses and independent entrepreneurs online who have made it their mission in life to take other businesses to the next level through online media advertising so that business owners have less to worry about and can thus focus their energies on keeping their business running smoothly.
Sites like Elance, oDesk, and even Fiverr exist to help owners continually grow their businesses at a fraction of what it would cost them to do so personally, writing and editing their own press releases, making their business's website rank in Google through search engine optimization, or getting their business's name out there with Google AdWords. As with hiring anyone for an in-house position, business owners can find ways to vet potential advertisers and designers by getting referrals from family, friends, and other business-savvy associates.
Keeping in line with the whole belief of Getting Things Done is to have a clear goal in mind. In his book, Allen strikes home the point that when defining any type of project, it is imperative to have a finished picture in mind. Having a precise definition of what the end product is supposed to be, putting it into practice is much easier. The clearer the definition or the goal an owner has in mind, the simpler it is to plan a way to reach it with the least amount of stress and struggle.
Every business owner should take a little while to contemplate and observe what it is that they are doing to expand the scope of their business. What aspects of the business can they do and what parts of it can be sourced to an outside party? There are plenty of ways to get things done in a business setting without having to waste precious hours of personal time.
PreneurCast podcast releases new episodes weekly. Each week, Pete Williams and Dom Goucher discuss a specific marketing strategy or technique that business owners can use to grow their web-based (online) or bricks-and-mortar (offline) business. Other topics covered include entrepreneurship, internet marketing, and productivity. PreneurCast debuted on iTunes' New & Noteworthy, and has consistently been featured in the business category's What's Hot and Top Podcasts sections around the globe.