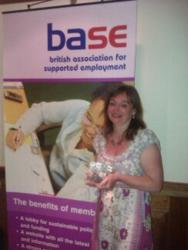 The awards acknowledge excellence in supporting employers and disabled or disadvantaged employees and take place during BASE's annual two-day conference
(PRWEB UK) 19 September 2012
Dimensions, a not-for-profit organisation provides support services for people with learning disabilities and autism. A leader in our sector; support around 2,500 people and their families in England and Wales.
Dimensions Community Enterprises is built upon the ethos "Providing the right structure to 'walk our talk,'" a collection of small social and profitable enterprises dotted throughout England. Working within customer focused areas allows us to offer real work experience with real customer facing time and work based skills. In turn enabling disabled and disadvantaged people to realise their potential within their own lives and as valued members of the community.
Marie, who works for Dimensions Community Enterprises (DCE) in Lincoln, a social enterprise group specialising in supported employment, was presented the award last week.
The awards acknowledge excellence in supporting employers and disabled or disadvantaged employees and take place during BASE's annual two-day conference, which was held this year in Glasgow.
Marie has been part of the employment support team for two years and during that time has supported dozens of people to improve their skills, gain nationally recognised qualifications and ultimately enter mainstream employment. Her three years prior experience as a registered mental health nurse brings a wealth of knowledge and expertise to the company and has been a driving force behind our recent partnership with an NHS trust in Lincolnshire.
Danica Gilland, the Business Development Manager at DCE who heads up the employment support team, said she believed the award was well deserved. She added that Marie's award was based on more than her professional background.
"Marie's experience in nursing is obviously a huge asset to our team. But this award speaks volumes about her ability to work one-to-one with people who have very low confidence and instil a belief in them that they can achieve great things. She's a friendly and warm person and you can see that through her interactions with the people we support," said Danica.
Marie said she was delighted with the award but keen to acknowledge the role her colleagues play. "I'm extremely pleased to accept the award on behalf of the employment support team. It really is a team effort and they all deserve this recognition for the individual roles they play. We're all pieces of a much bigger jigsaw and it wouldn't work without us pulling together as a collective," she said.
Notes for Editors
For more information contact Danica Gilland on (e) danica(dot)gilland(at)dimensions-uk(dot)org or (t) 01522 523818 or Dimensions PR and Communications Officer Kayley Worsley on (e) kayley(dot)worsley(at)dimensions-uk(dot)org or (t) 0114 241 2112.
1. Dimensions Community Enterprises is a national social enterprise group specialising in supported employment.
2. BASE is the membership organisation for over 200 supported employment agencies and supported businesses in the UK.
3. For further information about DCE's businesses or services please contact Danica Gilland on 01522 523818 or via email at danica(dot)gilland(at)dimensions-uk(dot)org.