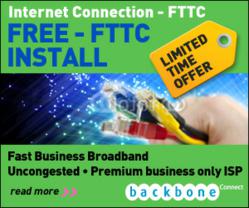 "Companies now face the jump to IPv6 addressing" says Mike Cullen, Backbone Connect's Technical Director
(PRWEB UK) 20 September 2012
Europe's stock of IPv4 IP addressing space – the unique addresses required for each device connected to the internet – have now all but depleted and affect all IP users including our customers in our london data centres
The body responsible for managing Europes IP address allocations, The Regional Internet Registry (RIR) for Europe, the Middle East and parts of Central Asia, announced on Friday 14th September 2012, that they have now distributing the last blocks of IPv4 address space from the available pool.
From now on companies may only make one more application for IPv4 address space and if successful will get a maximum of 1024 of them. However the strict requirements for further allocations are so limiting that to many the IPv4 stock is effectively depleted.
"Companies now face the jump to IPv6 addressing" says Mike Cullen, Backbone Connect's Technical Director, "RIPE are down to their last 16million IPv4 IP addresses which might sound like a lot but when you consider they were allocating just under 4million IP addresses every 10 days before they reached this last /8, you realise just how few are left"
"Like many others we've been well aware of the limited stock and have taken steps to ensure our customers can take advantage of IPv6 IP addressing when the time comes. In fact our complete range of business internet connections is IPv6 enabled including, FTTC Business Broadband, EFM, Ethernet Internet and IP Transit direct to a data centre" Mike Cullen said.
IPv6 was invented by the Internet Engineering Task Force (IETF) as the answer to the IPv4 depleted stock problem. It uses a new 128bit IP address system allows for far more IP addresses than is possible with IPv4 (around 4.8×1028 addresses per person) and is unlikely ever to run out.
"Anyone planning any development of internet facing networks will need should now ensure they are IPv6 ready" advises Mike Cullen "we've already ensured our own network is fully IPv6 enabled and we've helped our customers do the same, so for anyone looking for guidance and support around this new addressing model should talk to us, we'd be happy to help."
About Backbone Connect
Backbone Connect was established in 2008 as a data centre, managed network and internet service provider. The business now connects and colocates thousands of users using it's significant UK data centre footprint and large multi-carrier network. Backbone connect have a variety of london data centres accross the uk.