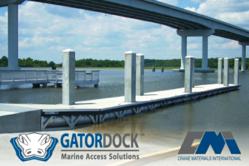 Sanford, Florida (PRWEB) September 19, 2012
The States Organization for Boating Access (SOBA) awarded Jon Fleischman with the Outstanding Service Award Wednesday evening at the 2012 SOBA Annual Conference Award Dinner. The Outstanding Service Award is presented to an individual or an agency who has made a continuing contribution to provide improved access for boaters and anglers to our nation's public waters. SOBA's week-long conference was held in Mobile, Alabama and was hosted by Terry Boyd, Chief Engineer at the Alabama Department of Conservation and Natural Resources. The annual conference gathered industry experts from across the nation with a mission to encourage, promote and support federal and state programs that provide safe, high-quality and environmentally sound public recreational boat access to the waterways of the United States and its territories.
Since SOBA was founded in 1986, membership has expanded to all 50 states and five territories and includes not only state boating officials, but also consultants, engineering firms, and manufacturers interested in boating access. SOBA recognized Jon Fleischman as a solution-finder who has collaborated with SOBA's many members to create custom solutions that are now standard features on boat access projects across the county. Each of Jon's dock, pier and marina solutions has a unique purpose that is a combination of local environment, regional culture, and the client's individual interests. Crane Materials International (CMI) and GatorDock are proud to have had Jon Fleischman as a team member for over three decades and congratulate him on this prestigious award.
GatorDock is the leading manufacturer of aluminum floating docks, fishing piers, kayak launches, boat ramps and marina systems. GatorDock has been serving the marine industry for over 40 years. Many of Jon Fleischman's innovative designs can be seen on GatorDock.com as well as along America's coastlines and lakes. To learn more about SOBA's mission and previous award recipients, visit them at SobaUS.org.
###
GatorDock™ is a product of Crane Materials International.