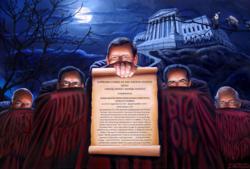 New York, NY (PRWEB) September 19, 2012
Just in time for the upcoming election, artist Michael D'Antuono, known for his sometimes controversial takes on social and political issues, is contributing two thought-provoking paintings to the group exhibition "Party Headquarters: Art in the Age of Political Absurdity" at the Pratt Manhattan Gallery. D'Antuono will be exhibiting his painting "Court Blanche", a critical take on the Supreme Court's Citizens United ruling that set the stage for this election's super-pac-mania. His other painting, "American Pie", reveals the real reason why the super-elite are willing to donate such vast amounts to political campaigns.
The show will showcase art by several other well-known artists in a range of media that take on the pressing questions of the day, among them the social consequences of greed, the corrosive effects of money and religion in politics, the contradictory aspirations embodied by the American Dream, and the destructive outcome of unquestioning faith in American exceptionalism. With wit, satire, and passion, the artists in this show urge us to acknowledge both the strengths and the follies of contemporary American politics and ask if we are living up to our own best beliefs. Opening reception Thursday, September 27, 6 – 8 pm. Exhibition runs through Nov. 10. (Pratt Manhattan Gallery,144 West 14th Street, 2nd floor 212-647-7778.) 
To see more of D'Antuono's art you can visit his website http://www.ArtandResponse.com. Also, his painting "Murder By Media" which focuses on the destructive power of a biased media, will be on view at the 2nd Annual Parsons Reunion Alumni Exhibition, Oct. 12-19 in the Arnold and Sheila Aronson Galleries, Sheila C. Johnson Design Center 66 Fifth Avenue at 13th Street, New York. Opening Reception Oct. 13 6-8pm.
Press Contact: info(at)ArtandResponse(dot)com