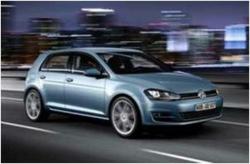 (PRWEB UK) 19 September 2012
Business Car Manager has taken an interest in the upcoming release of the new Golf by Volkswagen.
Any new Volkswagen Golf is always an event. A bit like the announcement of a new Apple iPhone.
But the new Golf should be really catching the attention of company car drivers thanks to a range of launch engines that will really have the taxman in a huff.
The new Golfs offer lower company car tax benefit in kind bandings than the existing range.
Business car managers with an eye for lower running costs on their business cars should also take note, with average fuel consumption ranging from 57.6mpg to 74.3mpg.
The launch engines for the new Golf include two petrol engines – one with cylinder de-activation for even better fuel economy – and two diesel units.
The average fuel consumption, CO2 emissions and company car tax bands are detailed in the table below.
This new VW hatchback is Golf Mk7, and like the Golf Mk6, its design is evolutionary rather than revolutionary – rather like the new iPhone 5 to continue the Apple analogy.
The all-new Golf uses the VW Group modular platform that has already debuted on the new Audi A3. Called MQB (Modularer Querbaukasten), it's a stronger but lighter weight chassis, allowing greater efficiency.
Which for business car managers and company car drivers equals lower running costs and lower company car tax.
Volkswagen says that the weight saving is up to 100kg compared with the previous model – equivalent to taking out of the car one adult and a child.
For the launch of the new VW Golf there will be the choice of four engines, two petrol and two diesel, all with low emissions for low company car tax and reduced pence per mile costs.
The new VW Golf goes on sale in October and will be available to customers from January 2013, although there is no news on Golf prices or business car finance offers yet.
The new Volkswagen Golf engine range
1.2-litre TSI petrol 85PS, 57.6 mpg, 113 g/km – company car tax band 13% for 2012/13, 14% for 2013/14
1.4-litre TSI petrol 140PS unit with Active Cylinder Technology, which can deactivate two of the cylinders, and achieves up to 58.9 mpg, 112 g/km) – company car tax band 13% for 2012/13, 14% for 2013/14
1.6-litre diesel with 105PS, 74.3 mpg, 99 g/km - company car tax band 13% for 2012/13, 14% for 2013/14
2.0-litre diesel 150PS, 68.9 mpg, 106 g/km company car tax band 15% for 2012/13, 16% for 2013/14
For those who want to know more about company car tax, they can click here for the latest company car tax tables.
For more car news visit the Business Car Manager website http://www.businesscarmanager.co.uk