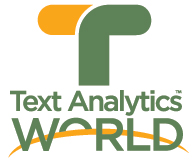 Boston, MA (PRWEB) September 19, 2012
Will it be evolution or revolution? The future of text analytics is being decided at Text Analytics World (TAW) in Boston, MA. From October 3-4, 2012, industry experts from around the country will meet to discuss the latest developments in enterprise and intelligence applications, text mining, big data and customer intelligence.
A keynote address on Future Directions in Text Analytics by Tom Reamy, Chief Knowledge Architect of the KAPS Group kicks off proceedings. No longer a simple social monitoring tool, text analytics is now at work within a whole range of applications, a giant unacknowledged factor in business success.
Reamy will look at the present state of text analytics – the major trends, issues and developments – and its future potential:

How do we add intelligence and depth to Social Media applications?
How do we build enterprise applications that incorporate the 90% of information that is unstructured?
Is there a sensible way to integrate text analytics and predictive analytics?
Attendees will find answers to many of these questions in the subsequent talks. Broken into two tracks, "Text Mining/Big Data and Social Media," and "Enterprise Text Analytics: Applications & Tools," each session focuses on real-world, actionable information.
Speakers from a diverse range of industries, including IBM, J.D. Power and Associates and AP, will be pushing the boundaries of interdisciplinary text analytics. Case studies will provide the backbone of many talks, along with detailed demonstrations of the latest technologies and techniques. A full-day workshop on Making Text Mining Work: Practical Methods and Solutions follows the conference.
Register before September 28 for Text Analytics World in Boston, MA (October 3-4, 2012) and save up to $400 over on-site registration. Bring the team and each additional attendee from the same company registered at the same time receives an extra $200 off the Two Day Pass.
View the full agenda and see all the in-depth sessions available.
About Text Analytics World
Brought to you by the producers of Predictive Analytics World, Text Analytics World is a full-spectrum conference that covers all aspects of text analytics. To solidify the business value you gain from text analytics, TAW delivers the latest methods/techniques, demonstrating their deployment across a wide range of industries, large and small. TAW also explores a full range of vendor solutions and various forms of text analytics enterprise deployment.
Co-located alongside Predictive Analytics World, as part of Data Driven Business Week, TAW also provides cross-conference registration options for access to a wide scope of leading analytical coverage and case studies.
About Rising Media
Rising Media is a global events producer excelling in Internet and technology-related conferences and exhibitions. Rising Media-produced events include Data Driven Business Week, eMetrics Summit, Conversion Conference, DemandCon, GAUGE, Predictive Analytics World, Text Analytics World, Affiliate Management Days, Building Business Capability, Social Media Economy Days, Web Effectiveness Conference, Search Marketing Expo, SemTech and Social Gaming Summit in the US, Canada, UK, France, Germany, Sweden, Finland and Australia.