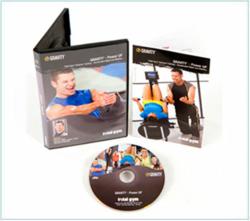 With the latest success of our GRAVITY® Workout Programs in health club facilities, we were thrilled to offer the same programming for our home fitness enthusiasts
West Chester, PA (PRWEB) September 19, 2012
Since 1974, Total Gym has revolutionized the way we work out – helping people reach their goals in physical therapy facilities, health clubs and in over 4 million homes worldwide. The latest Total Gym innovation, a remarkable high-energy club program called GRAVITY, is producing astounding results, whether you enjoy working out at the gym or in the comfort of your own home.
There is a GRAVITY® workout program guaranteed to take every Total Gym home user to the next level.
Titles include:
Totally Hot - Work It, Own It – Body Sculpting on Total Gym® This is a Hot Series of challenging, quick tempo exercises targeting every muscle group. Participants test their fitness thresholds with little to no rest between sets – the fastest way to improve strength, endurance, speed and muscle definition.
GRAVITYPilates:: Infused Core – Core-Powered Pilates Training on Total Gym® See how unparalleled, three-dimensional GRAVITYPilates training on Total Gym leads to body transforming results, while supporting and enhancing the all-important core muscles.
Boomers on the Move – Rewind – Baby Boomers Change Course with Total Gym® This fun, low-impact beginner workout features functional exercises developed for aging adults new to fitness or returning to exercise.
GRAVITY Power UP :: Total Gym Extreme Training – Accelerated Might and Mastery Participants ramp up their training by exerting maximum energy to see muscle defining, inch-melting results in less time.
"One of the greatest advantages of Total Gym is that it is not a trend, it has been around since 1974 and has delivered results in every fitness arena. With the latest success of our GRAVITY® Workout Programs in health club facilities, we were thrilled to offer the same programming for our home fitness enthusiasts." says Total Gym founder, Tom Campanaro.
Each GRAVITY® Workout Program is delivered by a Total Gym® trained GRAVITY Master Trainer. These are some of today's top trainers, including Todd Durkin, Rob Glick, Helen Vanderburg and Michael Steele. For more information and to check out the line of GRAVITY® Workout DVDs currently being offered visit TotalGymCatalog.com
About Total Gym®
The Total Gym® is the ultimate workout machine utilizing an individual's own body weight as resistance to perform total-body functional exercises. Total Gym uniquely incorporates the use of multiple muscle groups together in all planes of movement, the most efficient way to exercise and see results. Total Gym, rooted in the physical therapy and commercial fitness markets, entered the consumer "home fitness" market in 1996 with the airing of its first television infomercial featuring long-time user Chuck Norris and co-host Christie Brinkley. The Total Gym infomercial is one of the industry's longest-running and most successful; broadcast to 85 countries and credited with sales of over four million units worldwide. For more information, visit http://www.TotalGymDirect.com or call (877) TOTAL - GYM.
###