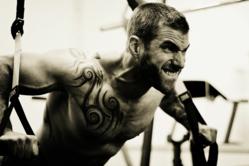 I want to help people get the body they deserve
London, UK (PRWEB) September 20, 2012
Former professional wrestler and personal instructor Grant Davison has launched a brand new fitness website-Zeus Fitness. The site is now live and online and with the motto "Train like the Gods" it aim to help people in the UK get a body just like Grant's. After a successful career traveling the world as a wrestler and helping hundreds of people as a personal instructor, Grant is bringing his unique knowledge and experience to the net for the first time.
Being a professional wrestler Grant knows all about what it takes to stay in shape. The new website is full of instructional videos, articles and nutritional information that can help anyone to achieve their fitness goals. Grant has used his experience and knowledge gained from working as a personal trainer and being a professional wrestler to create a site that brings something new to the fitness niche. Offering help and information to both men and women the Zeus Fitness website can help to kick start anyone's fitness goals. Visitors to the site can immediately start to benefit from Grant's knowledge as he goes through a number of workout routines for the arms, legs and abs.
Grant has said "Working online is a new challenge and one that I am definitely looking forward to. Hopefully it will be a little easier than being thrown around a ring and I will be able to help people get the body they deserve," he added.
People visiting the Zeus Fitness website can stay up to date with the latest news and videos from Grant by leaving their name and email address. A unique Zeus Fitness guide to burning fat and "Training like the Gods" is also available to anyone who subscribes to Grant's newsletter and updates.
About Zeus Fitness
http://www.zeusfitness.com is the latest project from entrepreneur and fitness fanatic Grant Davison. Grant started his career in the fitness industry working as a fitness instructor and personal instructor for a leading health and fitness club. When he wasn't helping people to get six pack abs he would be showing off his moves in the ring as a professional wrestler. Qualified as a National Academy of Sports Level 2 Fitness instructor and Level 3 Personal Trainer, Grant is now bringing his wealth of fitness and nutritional knowledge to the net.