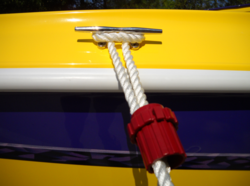 Online press and social media helped us get national distribution in Walmart
Estero, Florida (PRWEB) September 19, 2012
Estero, Florida resident/inventor Timothy Bourke has just received confirmation that retail giant Walmart will soon distribute his company's patented Super Rope Cinch rope-locking device. Mr. Bourke's company Just Right Products LLC, creators of the USA-made Super Rope Cinch, sat down for a second meeting with Walmart buyers on Wednesday September 12, 2012 at Walmart's Bentonville, Arkansas headquarters. According to Mr. Bourke, Walmart's decision to distribute their product came after seeing the large number of hardware and marine distributors already carrying the rope-securing device, and also the abundance of online press the Super Rope Cinch has attained over the past twelve months.
Timothy Bourke is no stranger to inventing. Over the past several years he has created and prototyped countless household and outdoor-related devices Mr. Bourke's patented Super Rope Cinch is the first of his inventions that has been gaining momentum at retail stores and retail distributors over the past two years. The device will soon arrive at Walmart stores everywhere.
In late 2007, Timothy Bourke presented brother, Andrew Bourke with the idea to create a device that would eliminate the need to tie and untie knots, allowing anyone to secure (and un-secure) items when having to use rope. This was the birth of the now patented, Super Rope Cinch rope-locking product. In 2008, Timothy Bourke, who was then living in near Detroit Michigan, hired a local automotive plastic-injection molding company to help design and produce the device. Not much happened with the device until July 2010, when Timothy Bourke signed an agreement with Kevin Harrington's TV Goods infomercial company. Unfortunately, the relationship with TV Goods did not prove productive. In October 2010, Timothy Bourke partnered with brother Andrew Bourke and began the process of manufacturing, distribution and advertizing the now popular boating and hardware gadget.
In May of 2011, Just Right Products LLC hired a national retail sales representative. In July 2011, Andrew Bourke hired his own company, Avidea PR, to begin a social media campaign along with writing and publishing online press releases for their unique product. By end of 2011, the Super Rope Cinch had gained distribution from two of the largest hardware distributors in the USA, and had also won the Members' Choice award by USA hardware distribution giant, Do it Best.
In February 2012, The Bourke Brother's began marketing the Super Rope Cinch to the Boy Scouts of America, promoting the product as a fundraising tool for both the Boy Scouts and Sea Scouts. Scouts, who are known for working with rope and always being prepared, have since begun selling the Super Rope Cinch to raise money.
Using social media platforms like Facebook and Twitter, along with a website, WordPress blog and several highly-distributed press releases, the Super Rope Cinch gained traction and popularity, which eventually led to major hardware and marine distribution channels, and now, Walmart.
"If you had told me even five years ago that the use of social media and online press releases would assist a boating and hardware device in obtaining national distribution, I doubt I would have believed you. Now, I can't imagine how any product or service can be without social media and online press. Walmart's response to seeing the thousands of news and media websites that had re-published our press releases was simply priceless. The Super Rope Cinch is just the first of many products we hope to manufacture and distribute. We now know that we can use online press and social media to create posture and increase awareness in a very short period of time. Using online press and social media is something that every inventor should take note of. We now know that we can literally put a product in the national spotlight and in front of millions of people in just a matter of months. I would encourage everyone with a product or service that they must use both social media and highly-distributed press releases to raise awareness and create posture to get attention from the big retailers. Consumers and retailers now expect to see an abundance of timely and relevant information on the Internet. If that information is lacking in any way, consumers simply look elsewhere. Retailers are looking for products that move off the shelves, so it's up to us to create the in-store traffic. This knowledge of online media and social media is probably the most valuable asset Just Right Products LLC has." according to Timothy Bourke, president of Just Right Products LLC.